With all the buzz around clean beauty the past few years, great progress has been made in well-formulated, truly clean, and good-for-you skincare. We've broken down clean beauty in the past, but still, there can be a lot of misleading labels and claims out there. We thought it would be helpful to do the heavy lifting for you and outline exactly what vegan skincare is (and share some of our favorite vegan brands!). Although vegan products are often associated with the clean beauty movement, they don't always quite fall under the same umbrella.
Many brands that bear labels like organic, clean or cruelty-free, can still use animal-derived ingredients, like lanolin, or beeswax. In order for a skincare line to be completely vegan, these ingredients are often swapped for effective alternatives like fruit waxes or plant oils. While it can feel tricky to grasp, with a few key tips it can actually be pretty easy to spot—many of our favorite brands are vegan. In fact, you probably already have a vegan product or two in your current lineup without realizing it!
In order to break it all down, we chatted with Tara Pelletier, formulator and co-founder of vegan skincare brand Meow Meow Tweet to help break down all things vegan skincare and help make it as easy as possible for people to find the right products. Read on for everything you need to know about vegan skincare, plus 14 of our favorite 100% vegan skincare brands and editor-approved staples from each brand.
What makes a skincare product vegan?
Much like dietary restrictions, vegan skincare forgoes using any ingredients that are from or derived from animals. This might include popular skincare ingredients like beeswax, collagen, or keratin, even if those ingredients are ethically sourced. Pelletier shares that for their brand, vegan skincare looks like, "not using any animal-derived ingredients in our natural products and making decisions that reduce harm as much as possible for people, animals, and the planet. It's a lifestyle choice rooted in anti-speciesism and respect for all beings."
This type of approach extends care beyond just the ingredients themselves, to how they are sourced. Brands like Meow Meow Tweet, also choose not to source materials that might harm the habitats or food sources of animals.
How can you tell if a product is vegan?
The easiest way to spot a vegan product is by the "Certified Vegan" logo many vegan skincare products have. But Pelletier encourages you to go beyond that. "Learn how to read ingredient labels," says Pelletier. "First scan the product's label and packaging, read the full ingredient list, and find out if any of the ingredients are derived from animals."
Here's a cheat sheet of common animal-derived ingredients to help you out as you're learning what to look out for:
beeswax 
honey
gelatin
collagen
lanolin 
keratin 
silk
carmine (a colorant derived from beetles) 
elastin
milk
squalene (look for 100% sugar-cane derived Squalane instead!)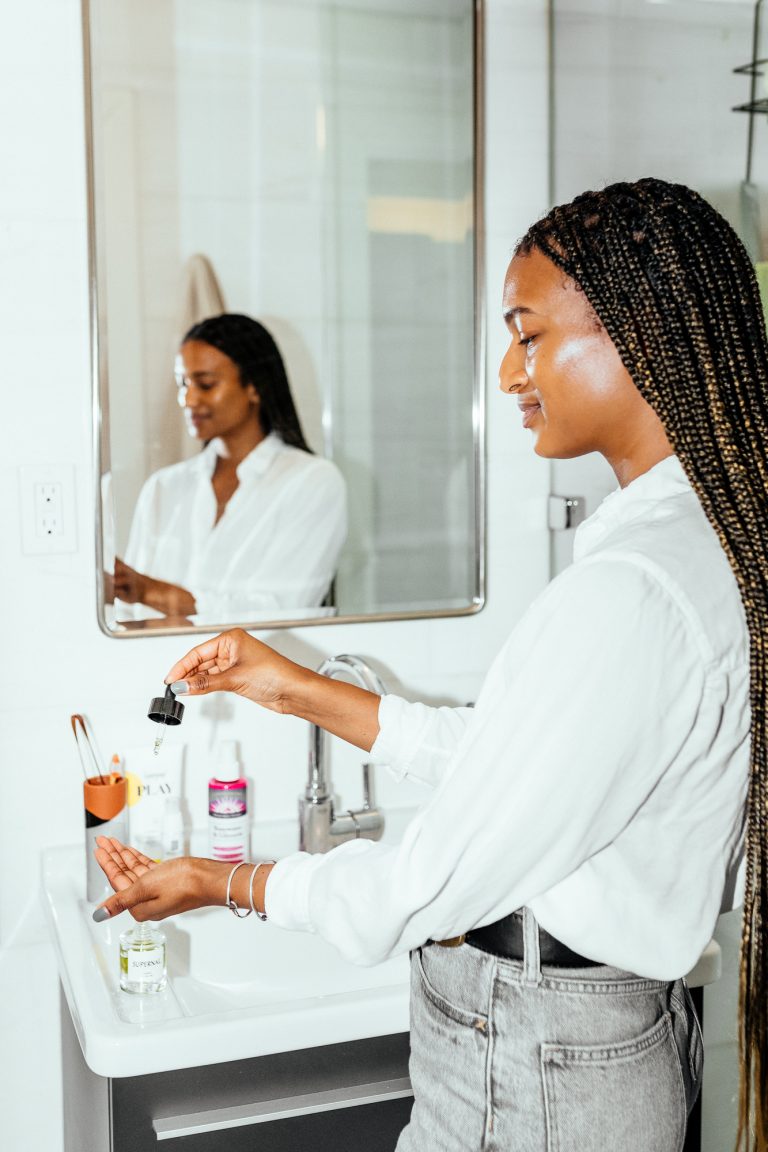 Are vegan and cruelty free products the same thing?
While vegan implies the absence of animal and animal-derived ingredients, cruelty-free means that the product hasn't been tested on an animal at any stage of the product's development. Pelletier warns that, "just because a product is vegan doesn't mean it hasn't been tested on animals, so familiarize yourself with the brand creating the product. "
What are the benefits of vegan skincare products?
"Where conventional beauty contains ingredients that are engineered to do a specific job, plant-based beauty works by bringing together ingredients that enhance the natural function of your skin," explains Pelletier. Vegan skincare not only offers benefits like promoting kindness and care towards animals and reducing environmental damage, but they can put the focus on plant ingredients that have been used for centuries for their healing properties. Many vegan products are rich in vitamins filled with antioxidants and anti-inflammatory properties, and Pelletier explains, "plant lipids and waters make your skin cells slippery, hydrated, moisturized, and free from damage—supporting them in doing what they already know how to do."
If you're new to clean beauty or vegan skincare, something to note is that many products have a shorter shelf life thanks to the lack of synthetic stabilizers and barely refined, organic ingredients. Pelletier says that most natural beauty products should be used within three to six months of purchasing to ensure maximum freshness.
Our 14 Favorite Vegan Skincare Brands:
Vintners Daughter
A longtime favorite of beauty enthusiasts, there's good reason Vintner's Daughter has made its way into so many beauty cabinets. The epitome of luxury, plant-based skincare, Vintner's Daughter was founded by April Gargiulo and consists of just two products: the Active Botanical Serum and the Active Treatment Essence. While designed to work in tandem, they each stand well on their own thanks to their incredibly packed formulas that include 22 botanicals and 60+ bioavailable nutrients. While the formulations might be complex, the brand is all about simplified and minimal skincare, and believes you really just need these two products (plus maybe a cleanser of course).
Meow Meow Tweet
With a charming company name that comes from the founder's love of their cats and bird, the co-founders, Tara Pelletier and Jeff Kurosaki, founded their all-natural vegan apothecary after falling in love with natural skincare. From deodorant to nontoxic insect repellent and to a complete facial regime, Meow Meow Tweet is committed to creating pure, all-natural, plant and mineral-based formulas. All products are made with organic, raw plant oils and butters, steam-distilled and cold-pressed essential oils and organic or wild-crafted botanicals.
Dr. Loretta
Formulated by a dermatologist with over 40 years of experience (Dr. Loretta herself!), this skincare line is cruelty-free, vegan, and clean—formulated without sulfates, parabens, artificial dyes, or fragrances. With skincare focused on shielding the skin against environmental factors responsible for aging, Dr. Loretta focuses combining medical grade actives with botanical ingredients for healthier, more youthful skin.
Grown Alchemist
Grown Alchemist formulates innovative products combining high-quality active ingredients supported by scientific research and clinical results. Beautifully and minimally branded, these products won't just look pretty in your bathroom, they'll offer real results as they work with your body's natural capabilities to heal and regenerate.
Osea
Inspired by her grandmother's lifelong love of the sea (and unable to find formulas that met her standard), Jenefer Palmer set out to create a plant-based skincare line infused with elements of the ocean. Cracked with non-toxic and nourishing formulas they're a favorite for everything from overnight masks to body balms.
Versed
The ultimate in affordable clean vegan skincare, Versed was created by beauty powerhouse (and founder of clean make-up line, Merit), Katherine Power. Sustainably minded and minimally designed, Versed is known for delivering luxury-level results at a fraction of the cost (and looks cute while doing it).
Mara
Launched in 2018, Mara was created with the aim of creating clean, sustainably made products that center around the power of plants and the sea. Using a proprietary algae blend, clean actives, superfoods and innovative formulas, Mara's products offer high performing results for healthy glowing skin without any animal byproducts.
Summer fridays
The vegan brand launched its Jet Lag Mask in 2018 and quickly moved from being a single product startup to one of the most sought-after beauty brands. It has since expanded to cleansers, moisturizers and body care products all designed in the brand's chic, pastel-colored Insta-worthy branding.
Moonjuice
Moon Juice got its start as a cold-pressed juice bar before moving on to beautifully packaged supplements and adaptogens, and eventually, skincare. Its holistic formulas are responsibly sourced, bioactive and work from the inside out and vice versa, inspiring a holistic sense of balance and wellness.
Wonder Valley
Started by a husband and wife team, olive oil is Wonder Valley's cornerstone. Their olive oil is hand-harvested and expertly milled from our groves in Northern California. Taking the timelessness of great olive oil as the base of their products, they've translated it into deeply nourishing products for your skin.
True Botanicals
Beloved by celebrities, True Botanical's is an all-natural luxury skincare line that focuses on truly clean, Made Safe-certified ingredients and products. From serums to face oils to overnight masks, True Botanicals promises skincare that will stimulate collagen products, regulate pigmentation, and maintain hydration.
Bite
Bite Beauty started off with vegan lip products that go on butter smooth and really last and has since expanded to include makeup and skincare. Made agave nectar instead of lanolin, the Agave + Intensive Lip Mask is a go-to when it comes to lip treatments.
Supergoop!
If you're looking for the perfect line of vegan sunscreens and sun care, Supergoop! is it. From spray-on sunscreens to glowy tinted moisturizers, Supergoop! has the full lineup.
Superegg
Superegg is the new buzzy vegan skincare brand on the block. The line's ultra-chic branding features sleek, round, eggshell white containers packed with potent vegan skincare goodness. Drawing inspiration from her Korean upbringing and the role eggs played in those beauty rituals, Erica Choi, created Superegg with vegan and clean ingredients to recreate the skincare benefits of eggs.