Whether you're planning a romantic getaway this Valentine's Day or simply looking for the perfect gift, this special day is all about spoiling the one you love. And if you're in search of a luxury gift that will make this Valentine's Day truly unforgettable, look no further. In this blog post, we'll be exploring some great gifts that are sure to impress and delight your special someone – perfect for discerning travellers who value quality and luxury.
Core Racerback One Piece from Heidi Klein
This stylish swimsuit from Heidi Klein is the perfect gift for your Valentine's Day getaway, whether you're lounging on a tropical beach or exploring a new destination. With its signature chunky gold zip and seamless fit, this one-piece swimsuit offers both sporty style and comfort, thanks to its medium coverage bottom, racerback detail, and self-bra support. Make this Valentine's Day unforgettable with a swimsuit that will enhance your confidence and beauty on any beach or adventure.
Home Spa – Body, Face & Mind with Cosmetic Bag (Mimosa & Petitgrain) from Pure Lakes Skincare
This beautiful cosmetic bag from Pure Lakes Skincare contains everything you need for a luxurious spa at home with your loved one on Valentine's Day. There is a pure, essential oil diffuser to awaken your senses, a full facial routine to treat your face, a salt scrub to cleanse your skin, a shea body butter for a sensuous massage and a sleep spray for a relaxing, deep sleep.
The Majestic from Haute Florist
Celebrate the essence of love with Haute Florist's magnificent bouquet of two-tone pink and white roses. Their expert florists have carefully chosen each stem of Rhodos, Sweet Avalanche, Memory Lane, Cerise and Deep Water Roses to create a dynamic and irresistible display of affection. Quality is their top priority, and they ensure each bouquet is made with the freshest and most beautiful flowers. Impress your special someone this Valentine's Day with a gift that expresses your love and devotion in a truly stunning and memorable way.
Colonia Intensa from Acqua di Parma
Travel in style with Colonia Intensa from Acqua di Parma. This captivating scent blends traditional Italian elegance with modern sophistication, making it the ideal accessory for your travels. The fresh and lively opening of Calabrian bergamot and Sicilian lemon sets the tone for a journey of self-assurance, heightened by the spicy notes of cardamom and ginger. As the day unfolds, the fragrance evolves into a warm, intense aroma of woody-leather accord, cedarwood, patchouli, benzoin and musk. With Colonia Intensa, your Valentine can express their confident and charismatic personality, leaving a lasting impression wherever the journey may take them.
Your story personalised map heart couples print from Bombus
Create a beautiful custom made artwork that celebrates your favourite travel memories. Just choose three special map locations from anywhere in the world. Bombus will find them no matter how remote or unusual and handmake this personalised couples gift. Each map location heart has your choice of words printed beneath. Each piece comes beautifully gift-wrapped in tissue paper and strung with a blank map gift tag.
Unleash the power of love with the X3 from Insta360. Its compact and pocket-sized design makes it the ultimate companion for capturing life's most precious moments with your beloved. Imagine being able to freeze time and relive your romantic adventures together, from breathtaking sunsets to intimate dinners. The X3's 360-degree photography and videography capabilities allow you to capture every angle and detail, so you never miss a single smile, hug or kiss. Make this Valentine's Day unforgettable with a gift that will preserve the memories of your love forever.
Milk chocolate truffles from Lily O'Brien's Chocolates
Lily O'Brien's takes luxury chocolates to a whole new level. Whether you're looking for the perfect present for your Valentine or Galentine or just want to indulge yourself with some special treats, their truffles are gourmet indulgence at its finest.
Handcrafted with the finest ingredients, these mouthwatering treats come in three irresistible flavours: classic milk chocolate, velvety vanilla and award-winning salted caramel. Whichever flavour you choose, these luxury chocolates are guaranteed to make your Valentine's Day even sweeter!
Silent Pool Gin gift pack from The Whisky World
This Valentine's Day, The Whisky World are here to help the loved one in your life leave the chill of winter behind, recalling sunny summer days sipping a decadent poolside cocktail. Gin lovers will adore a Silent Pool Gin gift pack, including a bottle of this full and flavoursome gin plus two beautifully designed glasses – perfect for a romantic G&T for two. Or kickstart your own Mexican fiesta with Don Julio 1942 Tequila – a rich, opulent spirit that comes in a stunning, elegantly tapered decanter. At The Whisky World, you'll find our expansive selection of Valentine's gifts from across our collections of whiskies, spirits and more – and a host of equally impressive ready-to-present gift packs.
Sherpa 100AC Portable Power Bank from Goal Zero
Make this Valentine's Day a romantic getaway filled with adventure and memories with the Sherpa 100AC power bank from Goal Zero. The latest in tech innovation, this power bank is a must-have for any traveller. With a huge 94.72Wh capacity, you can power all your essential electronics, including phones, tablets, cameras, laptops and more, without worrying about running out of juice. The USB-C PD, AC, and wireless Qi® charging options provide maximum convenience and versatility, while the onboard cabling system makes it easy to keep all your devices charged and ready to go.
This stunning long-sleeved sweatshirt from Sézane is not only made from 100% organic cotton, but it also boasts a gorgeous vintage-effect red heart print on the chest, making it the perfect token of love for your special someone. The collaboration with the renowned fashion brand, Bobo Choses, means you're getting a stylish and high-quality gift that they'll love to wear.
With its round neckline and comfortable fit, this sweatshirt is ideal for snuggling up on chilly evenings or for a casual daytime look. The length of 58 cm from the shoulder (for size S) provides just the right amount of coverage, ensuring that your loved one stays warm and comfortable all day long. This sweatshirt is the perfect blend of comfort and style, making it a great choice for anyone who appreciates both.
CIGA Design Series R Denmark Rose Wristwatch from CIGA Design
Created by CIGA Design, the Series R Denmark Rose Quartz Edition watch is a fusion of Scandinavian minimalist design and oriental imagery. The design connotates the classic beauty of a Danish Rose, showcasing exquisite craftsmanship, while the layered petal case symbolizes good fortune. The simple curves of the face outline the flower shape, allowing the real mother of pearl to reflect light and showcase the characteristics of this unique material.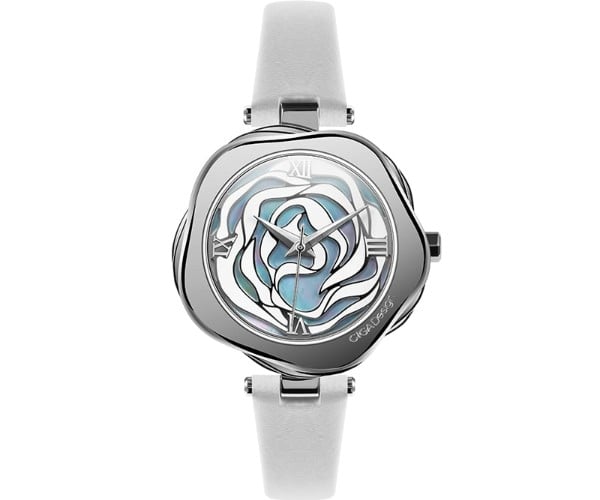 A timeless and elegant watch that can be worn for any occasion. Available for £179.
Relaxed Polo Neck Cashmere Sweater in Black/Snow Stripe from Loop Cashmere
Travel in comfort with this supremely soft, sustainable jumper from Loop Cashmere. Made from high-quality cashmere, this product has a longline, oversized and relaxed fit that is on trend but timeless. Chunkier ribbed trims, angled seams and front splits complete the look and make layering up extra luxurious. Dress it up with a silk midi skirt, or wear it with denim and trainers for an off-duty outfit. Whether you're out on the ski slopes or on a relaxing break, you can take this style anywhere.
Reusable stainless steel water bottles from Kept for Life
Kept for Life brings you a luxurious and elegant reusable stainless steel water bottle ready for the demands of everyday life whilst helping to reduce your single use plastic footprint. Available in three signature colours, Chalk, Sandstone and Slate. Get matching water bottles for you and your partner this Valentine's Day.
Introducing the lightweight and portable travel size version of a much-loved special edition 'Liforme Love Mat', featuring a unique embellishment of Liforme's popular AlignForMe design, setting the love-lotus at the centre of your practice. Designed to suit your needs in a lovely way for Yogis of all practising styles and abilities. Perfect for loving Yogis on the go! A complimentary travel yoga mat bag is included.
Kenda Decorative Globe from nkuku
Surprise your wanderlust-filled Valentine with a timeless and sophisticated gift. The Kenda Decorative Globe from nkuku will transport them to the world of adventurous explorers and evoke their thirst for new destinations. This beautiful globe, with its soft sand color and brass-hued axis, sits atop a sturdy mango wood base with warm natural tones, making it a perfect addition to any living room or study. Whether they're daydreaming about their next trip or planning their future adventures, this globe will be a cherished reminder of your love.
Soft leather handbag from Tuscany Leather
Treat your loved one to the ultimate luxury this Valentine's Day with a handbag from Tuscany Leather in Florence. This beautiful lipstick red bag is made from premium hammered leather and features a soft structure for a comfortable and stylish carry. The detachable and adjustable leather shoulder strap makes it easy to switch from a shoulder bag to a cross-body bag, providing versatility and convenience.
The simple yet elegant design features one spacious compartment that's perfect for storing all the essentials. Whether you're exploring the romantic streets of Florence or simply running errands, this handbag is the perfect companion for all occasions.
Luxury lingerie from Gilda & Pearl
Whether it's the playful, lavish luxury of our feather-trimmed Diana collection, the vintage-inspired blush and antique gold hues of Harlow, or the sensual splendour of the Sophia silk slip in ruby… Gilda & Pearl is perfect for treating yourself or someone special this Valentine's Day.
---
IMPORTANT NOTICE:
If you are reading this article anywhere other than on A Luxury Travel Blog, then the chances are that this content has been stolen without permission.
Please make a note of the web address above and contact A Luxury Travel Blog to advise them of this issue.
Thank you for your help in combatting content theft.
---
Northern Belle Train Day Trip for Two from Virgin Experience Days
Go back in time to the golden age of luxury rail travel with a full day excursion on the Northern Belle luxury train with Virgin Experience Days. Your train departs from various cities in the UK from the likes of Edinburgh, Glasgow, Newcastle, Leeds, York, Manchester, Liverpool, Chester, Crewe, Doncaster, Sheffield and Birmingham International.
Select from a variety of full day excursions to some of Great Britain's greatest stately homes, historic towns, cities, gardens and attractions. Something for every taste and style. Enjoy a luxury train experience with impeccable service, and a delicious sparkling three-course brunch through the British countryside on the outward journey. On arrival, at your chosen destination enjoy an afternoon sightseeing with guided tour. Back on board enjoy a Champagne reception, table canapes and a sumptuous four-course dinner with wine on the return. Replenish, unwind and explore the stunning carriages as you head home.
Meisterstück Key Pouch from Montblanc
Celebrate Valentine's Day by giving the special someone in your life Montblanc's passionate coral red Meisterstück Key Pouch. This sleek and stylish accessory, crafted from deep shine leather, has a new pure geometric design and features four card slots, a zipped pocket, and a hook, making it both practical and fashionable. Keep essentials close at hand with the option of carrying it comfortably with a neck strap (sold separately) or easily slipping it into a pocket.
The DJI Mavic 3 Classic is a thoughtful and practical gift for the traveller in your life this Valentine's Day. Its compact and portable design, advanced camera features, and intelligent shooting modes make it a great tool for capturing memories and moments while on the go. Whether your significant other is a seasoned photographer or just loves to document your adventures, the Mavic 3 Classic offers a unique and unforgettable way to capture and share those special moments. The ease of use and intuitive controls also make it a great gift for those who are new to drones and looking to try something new. So, surprise your loved one with the DJI Mavic 3 Classic and help them take their travel experiences to new heights.
If you represent a product that you'd like to see feature in a future article like this one, please click here to subscribe to the retailer channel of A Luxury Travel Blog's mailing list.