"Winter squash" is a bit of a misnomer. In truth, these veggies really come into season at the end of summer and early fall. As the temps start to drop, I find myself looking for ways to use all of the beautiful squash piling up at grocery stores, markets, and farm stands. Lucky for all of us too, their buttery flavors are the perfect addition to soups, salads, and pastas, and they even stand up as the hero in many of the meatless main dishes I'll be eating all throughout the season.
Perhaps you're already familiar with a few of the veggies that fall into this family. Butternut and spaghetti squash have become fan favorites in recent years, but I'd also recommend trying your hand at a recipe that includes delicata or red kuri squash this fall. Keep scrolling for tips on how to identify the seven most popular varieties of winter squash plus some must-try recipes below.
photography by Kristen Kilpatrick
I hit up Whole Foods and was amazed at the endless varieties of squash and pumpkins they had available. Honestly, you need a guide in order to navigate all of the options, and we're here to help!
To tell if a squash is ripe, you'll need to check out the exterior. The skin should be a matte color (if it's glossy, it's not ripe yet), and should have a hard exterior.
I picked up kabocha squash, delicata squash, a sugar pumpkin, acorn squash, butternut squash, spaghetti squash, and red kuri squash. I couldn't help but resist grabbing some mini gourds and pumpkins too! These are mainly used for decoration, but can be found in some recipes.
Look how cute these mini white pumpkins are! So many DIY ideas come to mind for how to use these this fall.
So many shapes, sizes, and colors! Here's how to identify the seven most popular winter squash:
Kabocha — squat, green squash with faint white lines running up and down the surface
Delicata — yellow cylindrical squash with green and orange stripes along the ridges
Sugar Pumpkin — small, almost perfectly spherical pumpkin in bright orange
Acorn — dark green squash with thick ridges all the way around
Butternut — bell-shaped squash with a light peachy yellow exterior
Spaghetti — round cylindrical squash with a bright yellow exterior
Red Kuri — warm orange squash with a lopsided shape
Try picking up a squash you haven't tried next time you're at the grocery store. For me, the hardest part of trying new foods is finding ways to incorporate them into recipes. Below I've listed out seven delicious recipes using each variety of winter squash.
Try these seven recipes to satisfy your winter squash cravings all season long.
Kabocha Squash, Fennel, & Ginger Soup With Spicy Coconut Cream, from Dolly & Oatmeal
Why We Love It: This soup is so creamy and comforting, it may come as a shock that it's not only vegan, but gluten-free as well. It's best paired with an afternoon spent puttering around the house in your softest pair of slippers plus a favorite fall sweater. Kabocha squash shines through with the addition of a few aromatic alliums (leeks and garlic) plus a crucial garnish of coconut cream. Cue all the cozy vibes.
Hero Ingredient: I officially want all of my soups to be topped with a spicy coconut cream. An eighth of a teaspoon of cayenne pepper packs just the right amount of heat.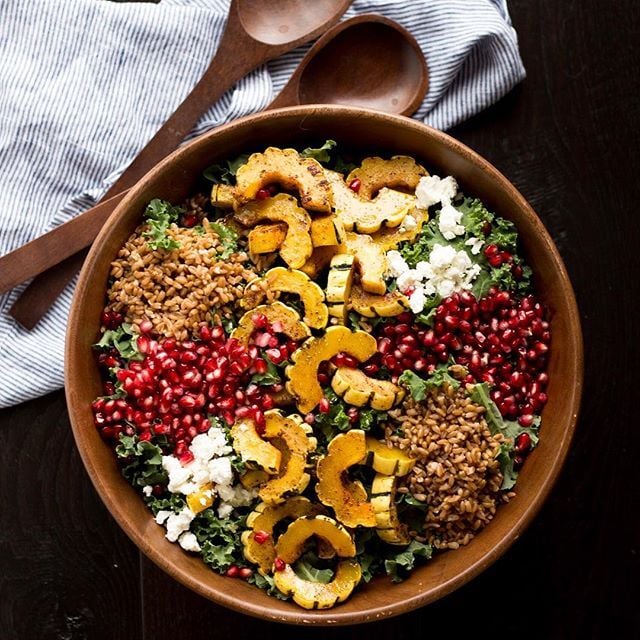 Delicata Squash, Pomegranate, & Goat Cheese Kale Salad, from Fox & Briar
Why We Love It: I love a salad that doubles as a gorgeous centerpiece on any fall table. Colorful and packed with all the components of my ideal fall dinner (kale, farro, goat cheese, and sweet delicata squash), this is the salad I've been dreaming of eating since summer.
Hero Ingredient: Pomegranate seeds are the juicy and jewel-like magic ingredient that takes this dish from a simple (but delicious) salad to truly droolworthy.
Sugar Pumpkin & Fried Sage Flatbread, from Foodie Crush
Why We Love It: This flatbread is sure to be the most delicious slice of elevated pizza you'll ever indulge in. Here's the thing though: it's deceptively easy to make. If you opt for pre-made flatbread (which, in a pinch, is totally justified), all that's left to do is roast your sugar pumpkin and top your base with the remaining ingredients. The recipe recommends serving it alongside a cup or bowl of soul-warming tomato soup. Don't mind if I do.
Hero Ingredient: Fried sage on its own is nothing short of revelatory. Paired with pumpkin, aged cheese, and a chipotle glaze? Mind-blowing.
Spaghetti Squash Pasta With Basil Pesto, from Minimalist Baker
Why We Love It: Spaghetti squash has stolen many hearts as it's proven itself to be a near-perfect substitute for pasta. While it maintains a slightly sweet bite of its own, spaghetti squash's mild, almost neutral flavor makes it an ideal pairing with the garlicky, heavy-on-the-basil pesto.
Hero Ingredient: As a vegan stand-in for the typical parmesan in the pesto, nutritional yeast provides not only a distinctly cheesy flavor, but a richness that really can't be matched. 
Quinoa Salad Stuffed Acorn Squash, from Love & Lemons
Why We Love It: There's really not a more perfect vessel for an herby, slightly fruity quinoa salad than roasted acorn squash. If you're looking for recipes to add to your Thanksgiving arsenal that is heavy on flavor and light on your stomach (because we all need more room for pie), consider this a quick-to-prep solution.
Hero Ingredient: Dijon mustard in the dressing gives a sharp and tangy pungency plus a little bit of spice to this dynamic dish.
Butternut Squash & Brie Soup With Crispy Pancetta, from Half Baked Harvest
Why We Love It: There's really no better way to celebrate soup season than with a recipe that brings together the alliterative pairing of butternut squash and brie. It's usually a few weeks into October that I start wanting all the hearty and warming flavors of late fall and winter, and this soup offers spoonful after spoonful of everything I crave.
Hero Ingredient: Crispy, salty pancetta. Creamy, buttery brie. Nutty and sweet butternut squash. I'm not even going to try to name a winner—it's definitely a three-way tie.
Roasted Red Kuri Squash With Cannellini Bean Spinach Salad, from Naturally Ella
Why We Love It: It's really no secret that we're big fans here of delicious and satisfying salad-stuffed winter veggies. Truthfully too, I couldn't name a more perfect presentation for this fresh and flavorful bean salad than roasted red kuri squash. New to this petite, pumpkin-like veggie? Know this: Zero peeling is required.
Hero Ingredient: The edible plate of red kuri squash is a perfect way to work some unexpected variety into your squash rotation. You won't regret getting a little adventurous. 
We may need a guide to all of the different types of pumpkins too! These gray beauties are Jarrahdale pumpkins. I love their muted color palette.
Happy fall cooking!
This post was originally published on October 26, 2017, and has since been updated.