The narrow Sea of Cortez is flanked by mainland Mexico and Baja California, offering an intriguing coastline that remains somewhat of a secret yachting destination. Aptly named "the world's aquarium" by Jacques Cousteau, the waters here thrive with an abundance of fascinating marine mammals such as whale sharks, humpbacks, sea lions and mobula rays. The contrastingly rugged desert islands scattered across the sea, rise with towering cacti-dotted crags while powder sand beaches are strewn below. These hidden gems are ideally discovered by yacht to fully experience the countless gems on offer.
Exploring the crystal-clear waters bordered by the 806 miles of Baja Peninsula to the west and the mainland of Mexico to the west, visitors can gain insight into this somewhat lesser known and very special part of the world. A population of over 2.5 million people live on the shores of the Sea of Cortez, where the entire coastline stretches for some 2,500 miles, dotted with hundreds of islets and 37 main islands, few of which are inhabited. This is a place to embrace the relaxed atmosphere and the "mañana attitude" is an easy way of life to adopt.  Meet the true local treasures – welcoming residents, who are fiercely proud of their roots, deeply embedded in their culture.
Biologically, the Sea of Cortez is the richest body of water found in the world, providing a home to over 900 varieties of fish, countless sea bird populations and some 5,000 species of other micro-invertebrates. It is little wonder that the Sea of Cortez has been declared a UNESCO World Heritage Site, with the marine rich sea fed by six rivers; the Colorado, Fuerte, Mayo, Sinaloa, Sonora, and the Yaqui. This has created a habitat where many species are purely endemic to these waters. It is interesting that the abundance of creatures both on land and sea also appear to relish the relaxed harmony of their environment, apparently thriving on human interaction, delighting visitors every time. The opportunity to stroke giant grey whales, meet friendly dolphins in their natural habitat and snorkel with dancing manta rays is certainly something unforgettable.
Found at the southernmost tip of the Baja Peninsula, the trendy resort of Cabo San Lucas welcomes visiting yachts to stylish beachfront resorts and marinas, and superb restaurants serve delicious cuisine amidst the tropical climate. Playa El Médano is the main beach, and beyond the marina is the Land's End promontory, site of Playa del Amor (or Lover's Beach) as well as the famous El Arco natural archway in the sea cliffs. This unique stretch provides one of the world's best sites for snorkelling and scuba diving, with warm, calm waters and picturesque coastal views. It is also a great place to enjoy paddleboarding and kayaking, or just to simply relax on the white sandy beaches. Fishing aficionados will relish this paradise, with yellowtail, marlin, snapper, sailfish and sea bass all prime catches (with a fishing permit).
Beautiful beaches are a big feature and this coastal space is home to some of Mexico's finest – these include Caimancito, Cormuel and Pichilingue in the La Paz area and many more found across Rosarito, Mulege and San Felipe. Whether you are seeking white sands on which to relax, fascinating tidepools to discover, or Insta-worthy rugged rock formations, then this is a top hotspot for variety. Travelling the Sea of Cortez by yacht provides the option to explore plenty of different locations, so choosing a favourite beach will not pose a problem.
In La Paz, immerse yourself in the stunning marine life. Renowned for whale sharks that bask in the area's waters from October to May, Pacific manta rays that stop over in the summer and humpback whales that migrate from December to April, there are also plenty of dolphins and look out for the permanent colony of sea lions. Also famed for spectacular sunsets and fresh seafood, do not miss a stroll downtown at the serene Malecon waterfront. Gorgeous Balandra Beach is home to the mushroom – the geological symbol of La Paz – a natural rock in the shape of a mushroom that was destroyed yet has been rebuilt with cement!
Providing a gateway to an array of nature activities, offering access to the sea, mountains and desert, Guaymas is in the state of Sonora. Prevalent in the beautiful Nacapule Canyon, located about 12 miles inland, the region's ecosystem is brimming with endemic flora and fauna, specifically a highlight for birdwatchers. Make way to San Carlos a popular sunset spot, best experienced at the El Mirador viewpoint, while the modern seaside town features beaches and wildlife spotting expeditions galore. Hiking is a popular pastime on Mount Tetakawi, sacred to the native tribes and believed to hold healing powers. Hiking to the top at 656 feet above sea level is around a two hour trek for activity-lovers.
Calm and charming, Loreto offers a relaxed coastal vibe with lots to see and do. A prime destination for snorkelling, diving and whale watching are the nearby islands in the bay, specifically Coronado and Catalina. Set in the Loreto National Park, all have sandy beaches, rocky shores and gorgeous desert landscapes, where sea lions and seabirds thrive. Head ashore from your yacht to visit the San Javier Mission, with a cathedral founded in 1699 situated amongst 300 year old olive groves in the nearby mountains.
Exploring the exciting Sea of Cortez in 2022, 50m Heesen KNIGHT offers the opportunity to travel in style. Chic and contemporary with accommodation for 10 guests in 5 well-appointed staterooms, she is packed with amenities plus an impressive water toys inventory. Relax on her expansive sun deck with Jacuzzi, full bar and dining area or head out to pursue adventure on her 42′ custom Hydrasport tender. Her experienced captain and crew will ensure a fabulous charter itinerary leaves you with unforgettable memories cruising in this sensational region.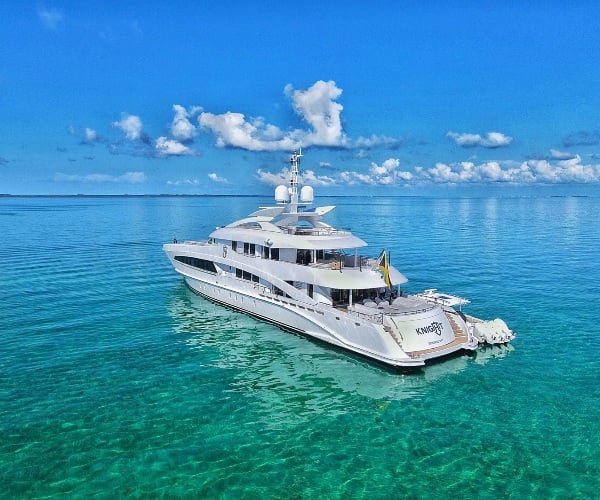 Endless delights await in the Sea of Cortez, the ideal spot for a unique getaway on a luxury yacht to truly leave the world behind.
Nicholas Dean is Managing Partner of Ocean Independence. Ocean Independence is a global leader in luxury yachting, providing a bespoke experience across yacht charter, sales and management.
If you would like to be a guest blogger on A Luxury Travel Blog in order to raise your profile, please contact us.