When unexpected twists happen in life, I find the best way to deal with them is to get organized. It gives me a task-oriented mindset and, for the most part, tends to keep my anxiety at bay. Springing into action is my cardio and my therapy. So when my five-year-old was diagnosed with asthma, I knew, in a way, our entire family was diagnosed with asthma. Life as we knew it was going to need to shift a bit to accommodate this discovery.
There were the obvious adjustments made—stashing rescue inhalers in every single purse I own, updating doctor charts and sliding into parent DMs to let them know about our "new normal". And then there were changes that I didn't expect at all, like finding out that our house, while not the culprit, wasn't doing any of us any favors in terms of indoor air quality. So obviously I went on a research deep dive to find out how to improve indoor air quality at home.
It dawned on me that while I use eco-friendly cleaning products and try to remember to change the air filters on a regular basis, the actual living environment we spend our days and nights in could probably use a refresh. So with laser focus, help from the EPA's website, a landslide of articles and studies, and many late nights of sorry, honey, I know you can't sleep with my laptop glowing in your face deep dives of internet research later, I'm a proud owner of Filtrete™ Smart Air Purifiers for all our common areas and bedrooms, as well as Filtrete™ Smart Air Filters for all of our HVAC systems.
Curious about air purifiers and other ways to clean up your act? To save you the effort, feel free to inhale my newly discovered intel about common indoor air pollutants, how I cleaned up the air quality in my home, and why I chose Filtrete™ Brand to be the newest member of our family. Be forewarned, some of the points have a solid amount of ick factor. You'll thank me… later. 
This post is in partnership with Filtrete™ Brand.
Common Air Pollutants
Dust
Clearly a super common offender, dust can not only be tracked in from the bottom of your shoes but also accumulates from indoor sources, including dead skin and pet dander.
Smoke
Whether it's from a cigarette or from a wildfire, smoke (among other indoor air pollutants) can be a major contributor to poor indoor air quality.
Animal Droppings
It's not just from your brand new puppy's accidents she keeps having on the floor.  Think droppings and eggs from rodents, birds, and other pests (eek) that contribute to poor air quality in the home.
Mold and Mildew
Hello, annoying-to-clean bathroom tile. These common allergens worsen air quality.
Pollen
Whether it's from the grass, trees, or flowers outside, pollen easily makes its way into homes either by being tracked in or when windows are left open.
VOCs
Short for Volatile Organic Compounds, VOCs are found in everything from house paint to cleaners, detergents, and cosmetics, and are released into the air in the form of a dangerous gas.
Vehicle Exhaust
Be especially wary of this one if you live in an urban environment or live above a garage.
Dead Skin
Yes, you read that right. Pet dander (flecks of dead skin from animals like dogs, cats, and even rodents) is known to worsen indoor air quality. Plus, skin from humans when sloughed off can serve as food for dust mites, which are a common household allergen. Bet that one gave you the aforementioned ick vibes, didn't it?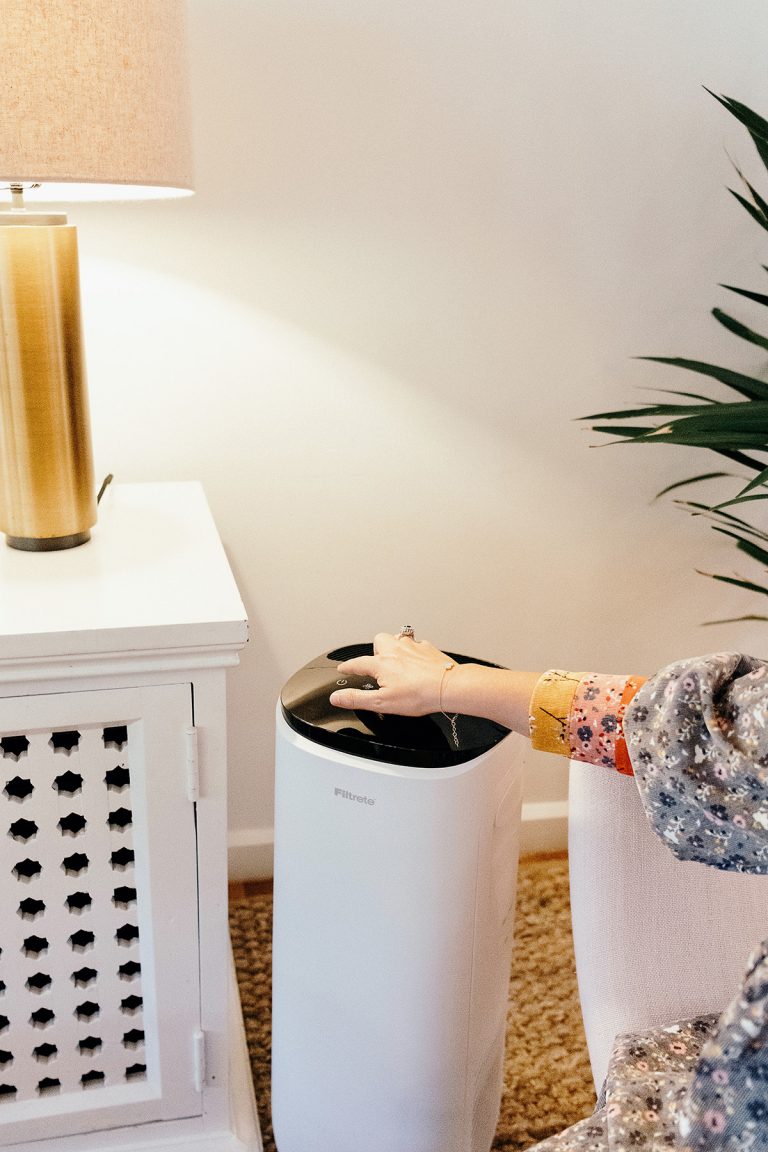 8 Steps I Took to Help Improve the Indoor Air Quality of My Home
I invested in a Filtrete™ Smart Air Purifier.
Not just any air purifier. I hit the jackpot with my super sleek, white Filtrete™ Smart Air Purifier (after much review and research for the best one on the market). While my family invested in the large Smart Air Purifier Tower for the bedrooms and living spaces in our home (which covers up to a 310 square feet area), both sizes available include true HEPA filters, which captures up to 99.97% of airborne particles*. My husband and I love keeping ours on auto mode, which automatically adjusts the fan speed to clean the air when poor air is detected. Mind. Blown. We have found it super easy to use, and the filters are a breeze to change. Plus, we can control our devices using our phones and the Filtrete™ Smart App, which alerts us when to change the filter. Genius.
*As small as 0.3 microns from the air passing through the filter media. Initial efficiency value.
I (finally!) cleaned my air ducts and started utilizing my cooking vent.
This was as easy as calling up a local air duct and vent cleaning service. Unsure if you need to get your ducts in a row? Check out the EPA's tips for how to decide whether it's time for a professional cleaning, or not. Plus, when I am in the kitchen, I now try to keep my cooking vent on at all times (as well as positioning my Filtrete™ Smart Air Purifier nearby), as fumes from my gas cooktop, as well as off-gasses and smoke from my cooking oil, may contain dangerous compounds.
I started changing my air filters, regularly! 
I decided Filtrete™ Smart Air Filters and their coordinating Smart App were perfect for my hectic working-mother-of-three lifestyle. Remembering when to change the air filters for my HVAC system is pretty much the last thing on my to-do list, so luckily for me, I let my Smart App do the heavy lifting. My Smart Air Filters contain a Bluetooth®LE-enabled pressure sensor that monitors the air flowing through my air conditioning and heating system. When it's time for a change, I receive a notification that even directs me to the correct filter type and size I need for my system of purchase—all done through the app. And what's more, my Filtrete™ Smart Air Filters help improve the indoor air quality by cleaning the air as it passed through the filter. Plus, the app gives me tips on how to better improve air quality in my home. How's that for 21st Century technology?
I actually make an effort (for once) to keep my rugs and carpet clean.
Sure, there was always the weekly vacuuming, but little did I know there was so much more I could do to keep dust mites and dirt at bay. According to the American Lung Association, carpets are a haven for all sorts of indoor air pollutants, including toxic gases. So now, I try to steer clear from carpeting and rugs altogether, and when I can't, I have started investing in an annual professional steam clean around my house.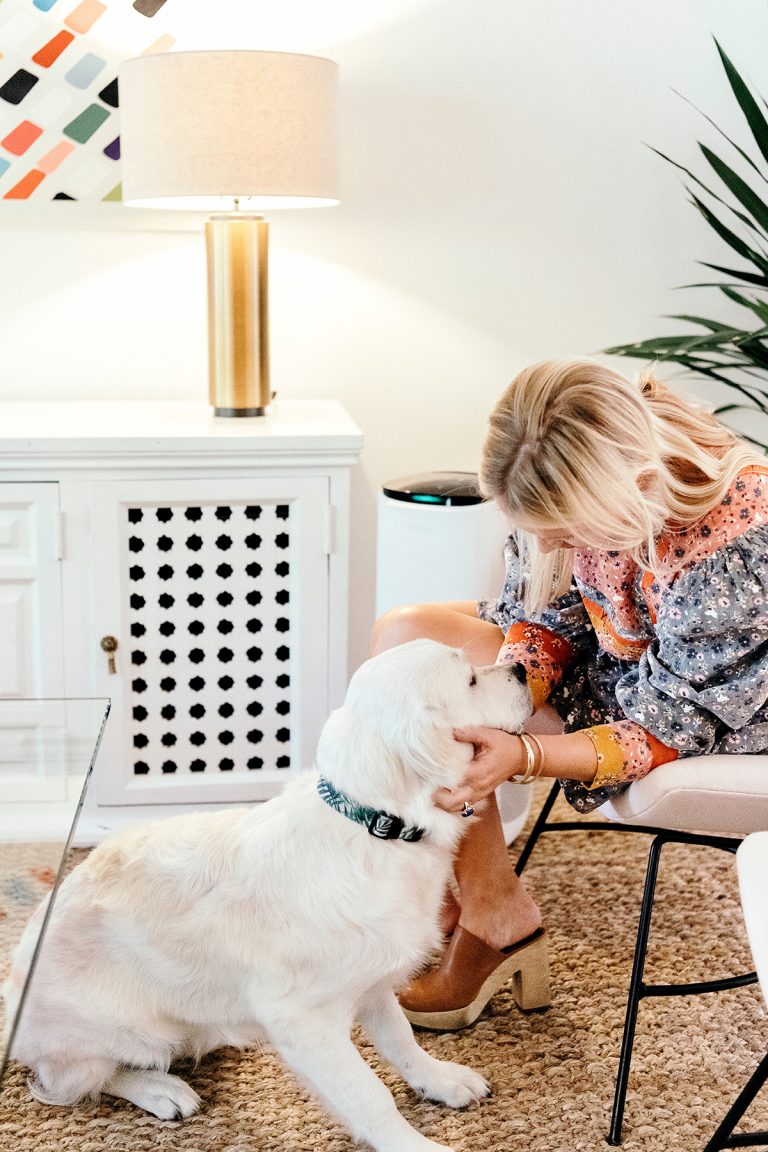 I prioritized indoor plants.
Being married to a landscape architect, plants surrounding our home have always been a high priority. But it wasn't until I made the conscious decision to improve our indoor air quality that we finally stepped up our plant game inside the house, too. We went with a variety of monstera, bamboo palm, and dracena (total jungle vibes!). This article is a great resource if you're looking for beautiful house plants.
I try to buy no-or-low VOC products. 
Volatile Organic Compounds can be found in everything from paint to carpet and upholstery to air fresheners, and even cosmetics. So, I've been more deliberate about only purchasing products that I know have little-to-no VOCs in them, including low VOC paint and non-toxic cleaning products. And sorry, friends, that also means no candles. 
I let the fresh air in.
With the recent 95+ degree days we've been experiencing in Austin finally behind us (fingers crossed), I plan on keeping my windows and doors open a whole lot more. The EPA says that natural ventilation in this way helps improve indoor air quality. And while there's no study to prove it, or at least not one that I've found, the fresh air and filtered sun just make for a happier home!
I monitor the outdoor air quality, too.
In order to really keep my finger on the pulse, I regularly check the Filtrete™ Smart App to give me the 411 on local air quality. It's especially helpful if you live in an urban environment or area known to have poor air quality.
——
While the journey began with my son's asthma diagnosis, it turns out my entire family now benefits from the changes I've adopted, too—we're all enjoying the fresher air we breathe in every day. Unsure where to begin on your journey towards cleaner air at home? A great place to start is with a visit to Filtrete.com. There you'll find the best purifiers and HVAC air filters on the market, all in one place. If you do one thing, this is that thing.