By
Paul Eyers
on Oct 29, 2021 in
Accommodation
,
Asia
,
Cambodia
,
Food and Drink
,
Going Out
,
Hotels
,
Regions
,
Resorts
,
Restaurants
,
Travel Miscellany
As we move through 2021, full of hope that there is light at the end of the tunnel, we are still presented with continued global travel challenges. Here in Cambodia, with an excellent vaccine rollout and a steady move towards 'herd immunity', the current restrictions are finally being relaxed, quarantine free travel to certain locations will commence later year and continue to be expanded as we move into 2022.
In the meantime, for those of us that call Cambodia home, locals and expats alike, we can continue to enjoy and support the luxury hotels and resorts that remain open. Incredible offers, reduced rates and that extra special Khmer hospitality are all available if you know where to look. For anyone who has a Cambodia trip as part of their post COVID travel plans, each of these properties present an excellent option. And if you're looking for a healthy slice of plant-based luxury during your stay, look no further…
Our latest plant-based luxury tour of the 'Kingdom of Wonder' sees us spend time in Siem Reap, Phnom Penh and Kampot. Together, they form a perfect trio of locations for anyone looking for a blend of jungle, temples, history and coastal vibes as part of their Cambodian adventure. For those of us living here and planning a luxury staycation, each of these luxury properties are well worth considering.
It's only right to start in the bustling capital city of Phnom Penh, where having opened in January 2021, Hyatt Regency Phnom Penh is the newest, international branded five star hotel in the city. The fusion of modern and contemporary design, a selection of creative F&B outlets and multi functional event spaces ensure that this luxury hotel is already on everyone's radar. This interest will elevate to the next level when 'The Attic' and 'Metropole Underground' re-open post-COVID. This seriously cool spots will provide a duo of excellent additions to the exciting nightlife scene in Phnom Penh.
We love how Hyatt have embraced plant-based food at their hotels throughout Southeast Asia, including featuring 'future foods' such as Beyond Meat on their menus. This initiative launched at Grand Hyatt Singapore back in 2018 and since then has seen a series of further launches, most recently right here in Cambodia at Hyatt Regency Phnom Penh. Dishes featuring Beyond Meat can be found at Market Cafe and also for delivery via their website. These dishes include mushroom and Beyond Meat dumplings in a Sichuan style spicy dressing which were an absolute favourite of ours. We also enjoyed a plant-based 'sharing' meal at FiveFive Rooftop Restaurant & Bar, their stylish signature restaurant on the 14th floor. This delightful dining experience (with views to match) ended with lime and coconut sorbets, on a bed of crunchy crisped rice with salted seed crackers, toasty coconut macaroon balls and a gloriously rich chocolate ganache. An indulgent vegan dessert which we can't wait to try again!
For riverside luxury, with mountains, national parks and the ocean on your doorstep, then look no further than Amber Kampot which is the finest luxury resort in town. A selection of well appointed one and two bedroom villas, each with private pools offer the ultimate in privacy, whilst the riverside pool, gym and Amber Spa by Samata provide the ultimate in relaxation. This stylish resort is a true slice of paradise in a unique location that will impress and inspire on multiple levels.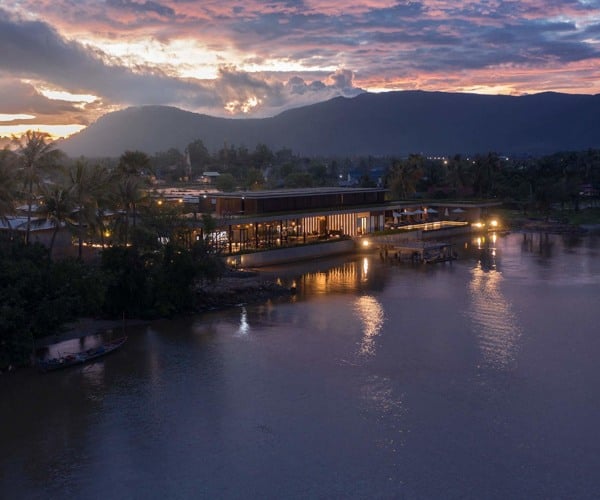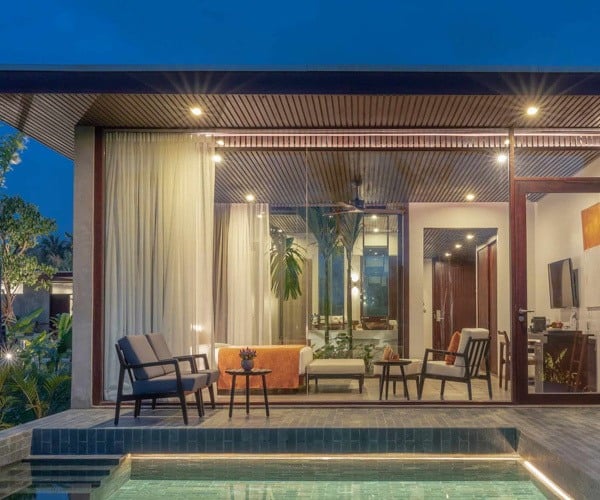 The a la carte menu at Amber Kampot featured a couple of delicious sounding vegan options, including a 'Vegan Vegetable Cake' which we selected for our lunch and were certainly not disappointed. A sweet potato, oatmeal, sweet corn and chick pea pattie served with mixed leaves, sliced avocado, tomato salsa and a balsamic reduction. The spicy salsa and the sweetness of the balsamic were a great combo which combined well with the vegetable cake and salad leaves. For dinner, the executive chef prepared an 'off menu' vegan meal which was delicious. The starter was a delicate salad of charred cherry tomatoes, cubed avocado, earthy beetroot and pomelo segments in the dreamiest of dressings which combined orange and locally sourced vanilla. This was one seriously exciting salad and the flavours were powerful and pleasing. Wow.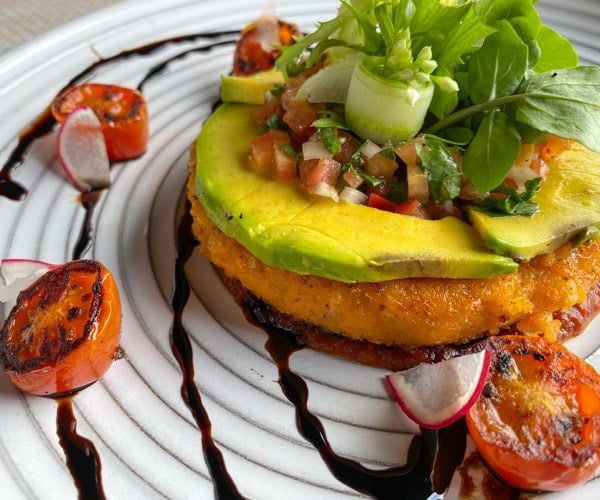 Last but by no means least we head to our hometown of Siem Reap, where Sofitel Angkor Phokeethra Golf & Spa Resort presents the chance to explore the jungle temples of Angkor during your stay. Located just 2km from the entrance to Angkor Archeological Park this luxury hotel is the perfect choice for those who wish to be within touching distance of the simply breathtaking UNESCO World Heritage Site. Set within spacious grounds, with ancient towering trees and a huge free form pool, Sofitel offers a selection of rooms and suites to suit all tastes; whilst the polished service and French colonial elegance make for a refined and memorable stay.
We stayed at Sofitel Angkor Phokeethra Golf & Spa Resort during the continuing pandemic, meaning that the dining options were limited due to reduced occupancy, but with any five star hotel, they were more than happy to adapt and prepare something amazing and vegan upon request. The culinary director and his team impressed us with their creativity; we enjoyed five courses of French inspired, plant-based fine dining served in the upscale surroundings of their lakeside restaurant, Mouhots Dream. Dishes included a perfectly cooked, polenta layer cake with Sicilian caponata, silky carrot purée and topped with a roasted chilli and capers. And a saffron infused risotto with both sun dried tomatoes and confit tomatoes, which was both expertly executed and absolutely delicious. Following our stay, this same multi course vegan menu is now available upon request for hotel guests and non guests alike. Just contact them 24 hours in advance and they will be happy to accommodate you.
We love calling Cambodia home and we are blessed to have such an exciting array of environments to explore. It's been devastating to see the economic impact of COVID hit so hard, especially in our home town of Siem Reap where tourism plays such a huge part in the economy and the lives of so many. We have continued to support the restaurants, shops, hotels and resorts who have strived to remain open during the pandemic, and are now super excited that we can return to a 'new normal' post pandemic, welcoming tourists to this wonderful country once again.
Paul Eyers is Founder of Vegan Food Quest. Vegan Food Quest have become luxury vegan travel specialists as they continue to find, eat and write about the best vegan food in the world.
If you would like to be a guest blogger on A Luxury Travel Blog in order to raise your profile, please contact us.