To celebrate all that fall has to offer, we headed to historic Peddler's Village in Bucks County, PA where tucked around winding brick pathways and award-winning gardens you can shop, dine, and stay in a colonial-style village beautifully decorated for Halloween and autumn.
With an onsite inn and 60+ specialty shops and boutiques, Peddler's Village is a total shopper's dream! Here you can find quality, unique items and gourmet goods from all over the world, including shops dedicated entirely to candy, raw gourmet honey, gourmet olive oil, hot sauce, jerky, pickles, popcorn, and much more. An ideal destination for Oktoberfest, you can even try an authentic Liege style waffle with gourmet ice-cream or shop at the largest store in the US dedicated to authentic Black Forest Cuckoo Clocks and German goods.  
Besides amazing shopping, Peddler's Village has 7 restaurants, a winery, a spirit tasting room, and a brewery where you'll discover fall inspired dining specials and weekly fun fall events like OctoberFeast, Scarecrows in the Village, and Apple Weekend that will have you coming back year after year.
Here's just a peek into what you can see, sip, dine, and shop for at Peddler's Village this fall season.
Don't Miss 'Scarecrows In The Village'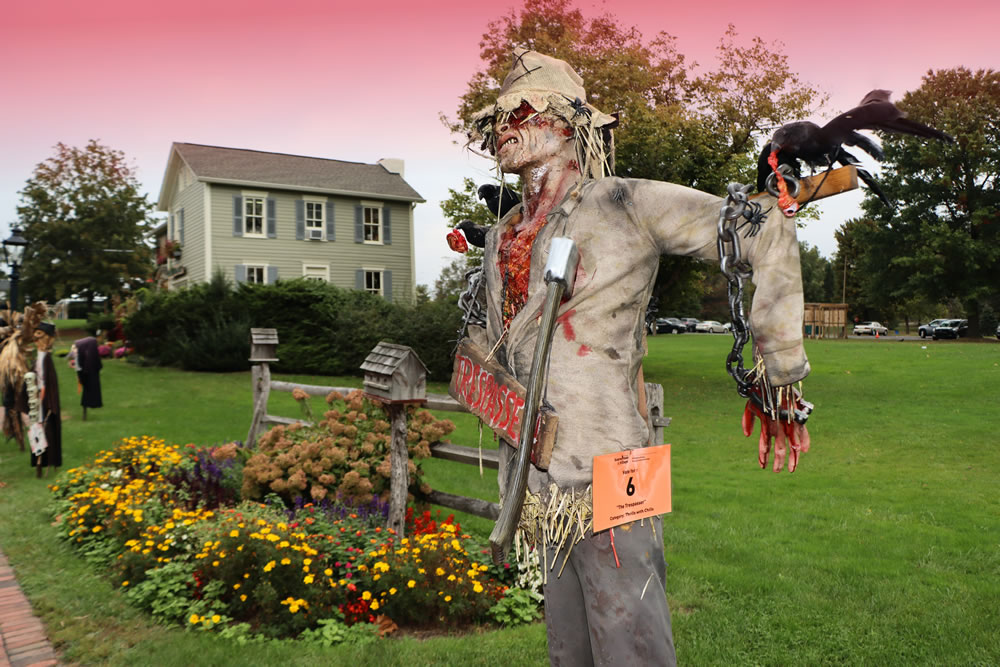 In its impressive 42nd year, Peddler's Village is celebrating the entire fall season with its popular Scarecrows in the Village event. Throughout the village you'll find over 100 life-size scarecrows lining the sidewalks and greeting you at boutique entries made by locals, shop owners, and businesses in a variety of categories like "Thrills with Chills,"  "Upcycled Crow" and "KIDS ONLY!". Walking the village, we had tons of fun seeing the creativity behind each and every scarecrow, which ranges from traditional and truly creepy to creative, artsy, and humorous.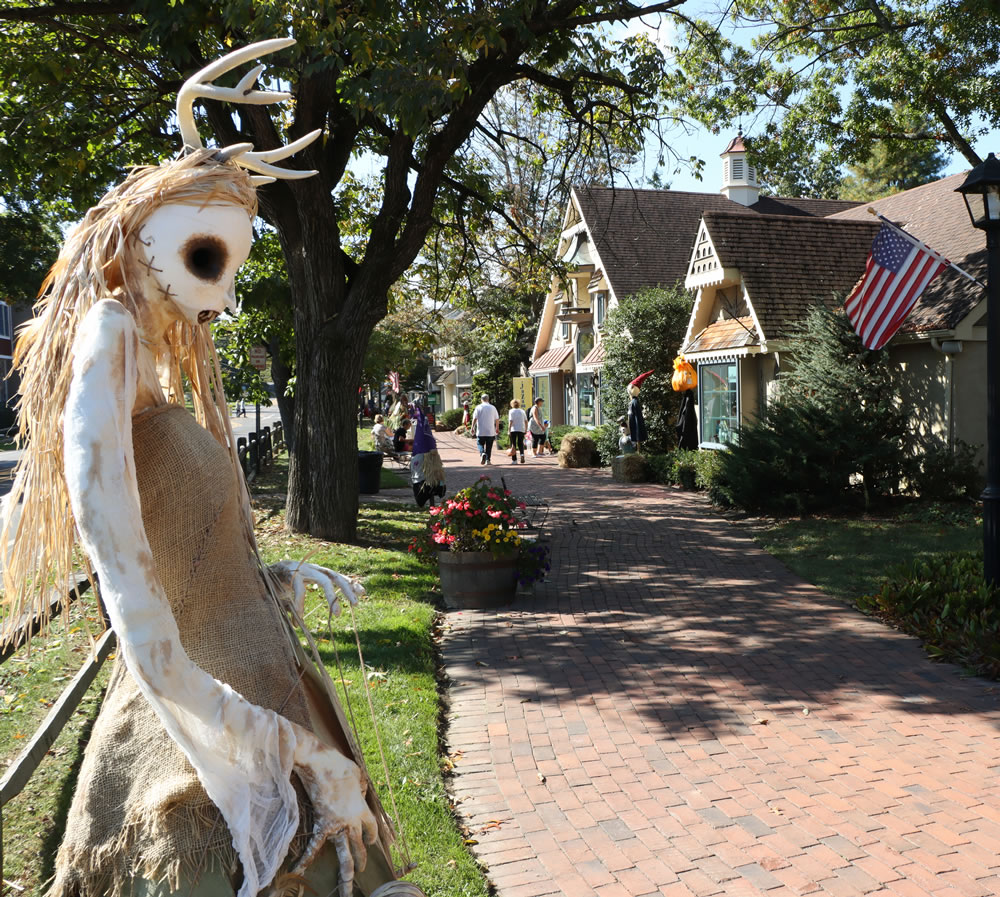 Some scarecrows are inspired by famous characters and others by mythological creatures and stories. They're pretty amazing and you just have to see them for yourself. The shops get in on the fun too! Throughout the season, visitors can vote for their favorites and the scarecrow's creator can win a prize.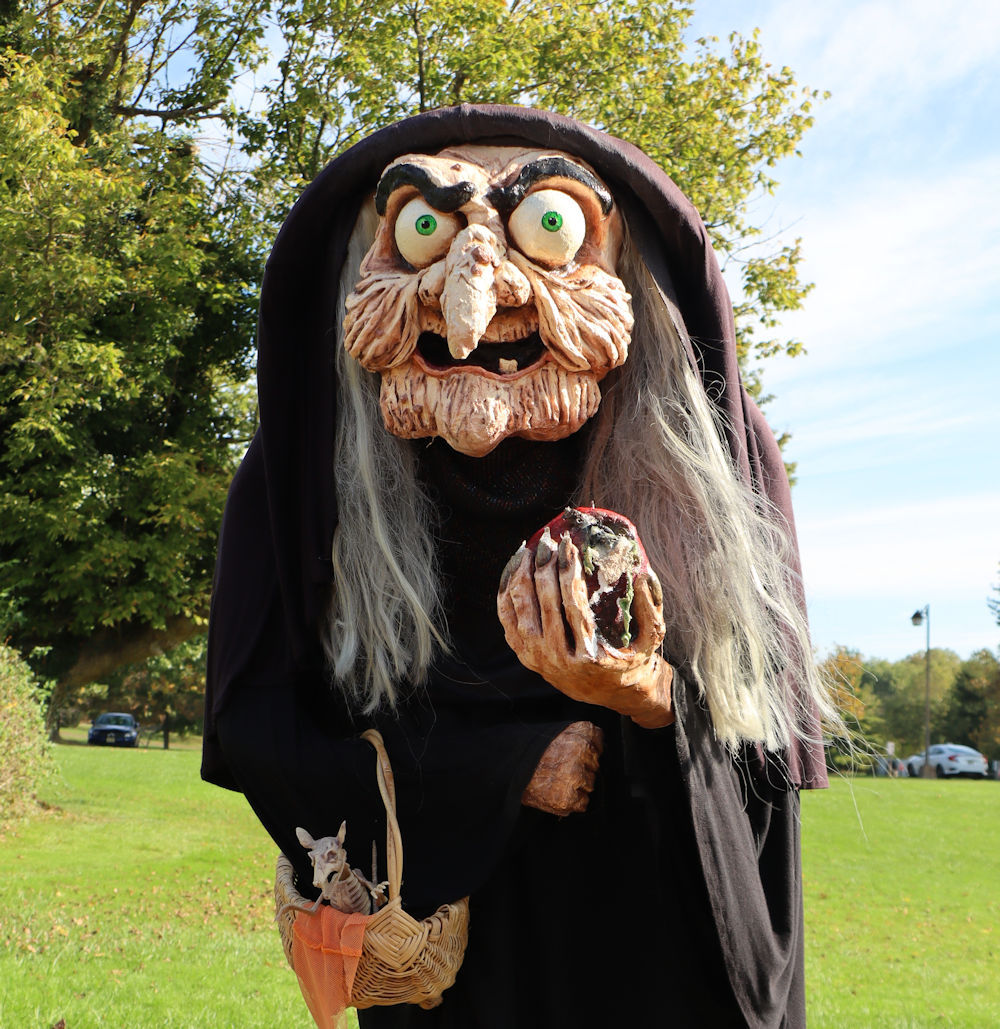 Perfect for young and old, the scarecrows are on display from September 6 through October 30. If you can't make it this weekend, put it on your calendar for 2022 as it's a yearly event.
Is Peddler's Village Haunted?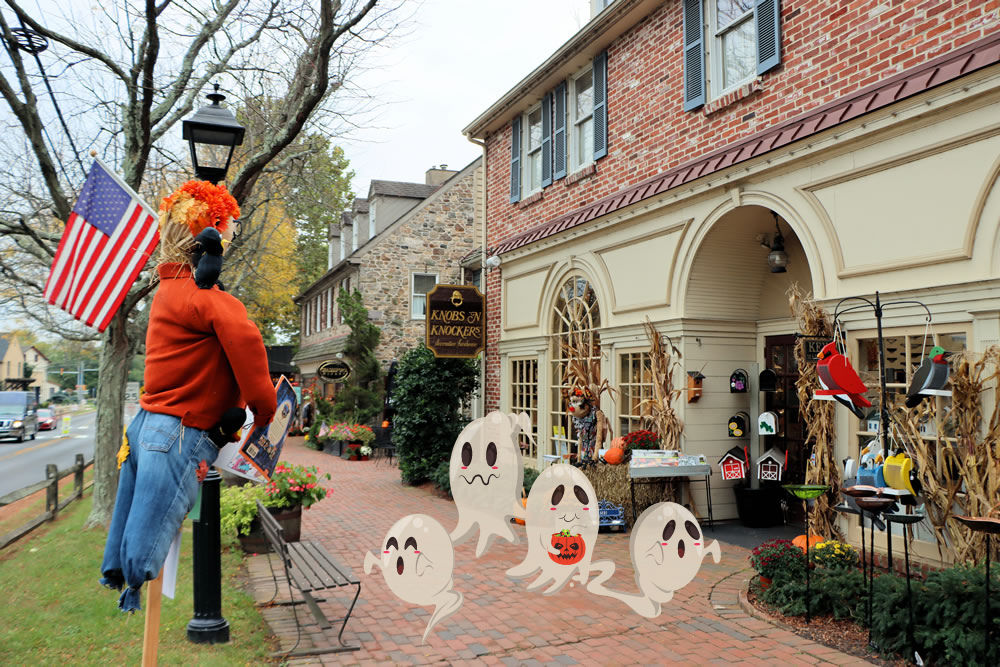 With Halloween in the air, fall is the time many of us, including myself, start to crave a good ghost story. And hidden around it's perfectly manicured winding brick paths and charming boutiques, Peddler's Village happens to have a few ghosts of their own. And it's no surprise. 
The small town of Lahaska and the area where Peddler's Village is located has a rich history that dates back to 1701 when it was settled by Quakers. Bucks County is one of the 3 original counties established by William Penn, and served as a camping spot for George Washington and his troops in 1776 before crossing the Delaware River to battle the English. Even earlier, Native Americans from the Lenni Lenape tribe called this area their home for centuries before that. 
Peddler's Village has its own rich history too. What was originally a historic chicken farm called "Hentown,"  still has many of the farm's original structures which are woven into the fabric of the village. In fact, the renovated main building of the Golden Plough Inn in Peddler's Village was originally a two-story stone tavern dating back to the mid-1800's. Originally it gave travelers and their stagecoach drivers a place to rest and recharge during their journey from Philadelphia and New York. But now close to two centuries later, it seems some of those original guests never left.
Ghosts at the Golden Plough Inn at Peddler's Village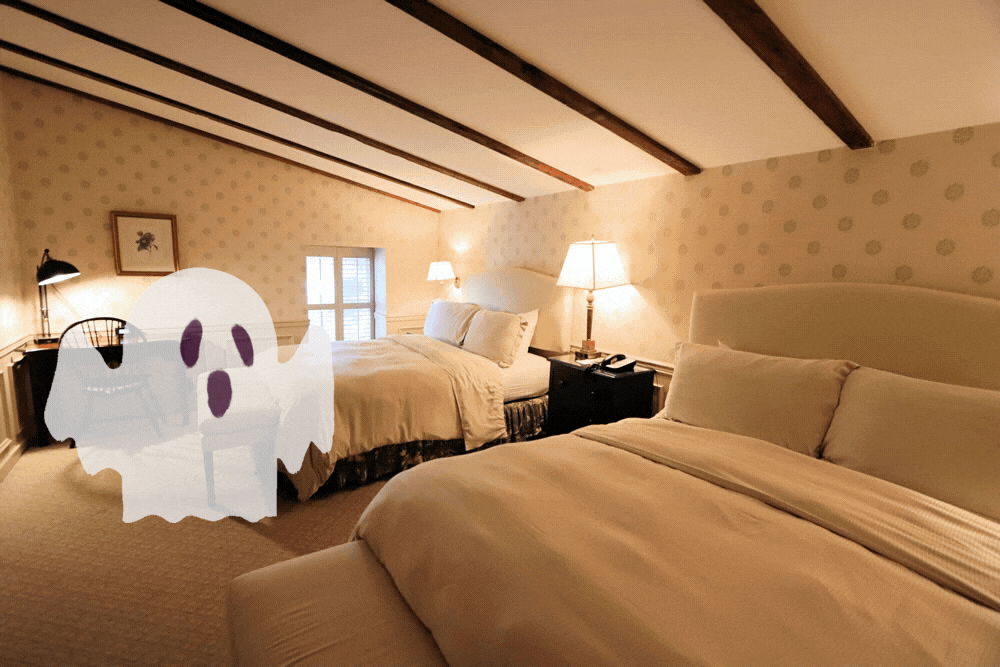 Hotel front desk staff of the Golden Plough Inn have reported mysterious phone calls from unoccupied rooms, and have reported lights and televisions in certain rooms turning on and off by themselves. The skeptic can maybe explain these things away as electrical glitches, but what's even stranger is that some recent guests in the Golden Plough have reported seeing an apparition of what appears to be the dark figure of a man in the hallway outside room 202 on the inn's second-floor. 
And room 202 itself has had unexplained activity too. On one occasion inn staff investigated loud noises coming from within, when it was supposed to be unoccupied. Upon entering they found the television had turned itself on. Naturally they went to shut it off, but were surprised by a disturbed disembodied voice who exclaimed, "What do you want!?" It's pretty safe to say they didn't spend a moment longer than they had to.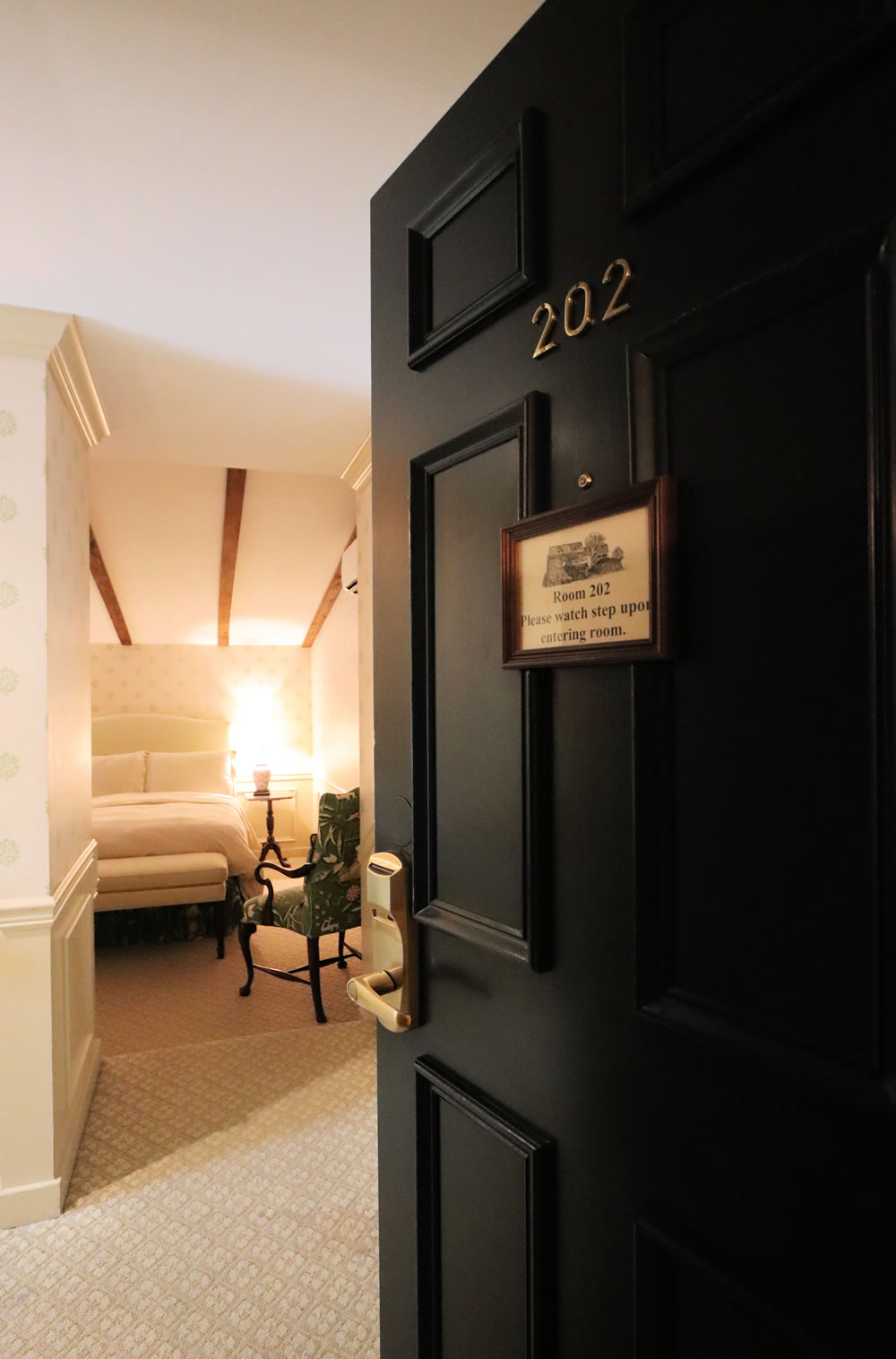 The lobby of the inn has had paranormal activity as well. It's believed that  Thomas Betts, who became Lahaska Post Office's first postmaster in 1874, still makes his rounds through the Golden Plough lobby.  And staff once discovered an unexplained procession of coffee stirrers leading from the coffee station all the way across the room to the front desk. The exact spot guests stand when they go to check in.
Some of the restaurants in Peddler's Village have also had their share of paranormal activity. The Cock 'n Bull is rumored to have the spirit of a little girl that makes silverware disappear and rearranges table settings, while a woman in colonial-era dress has been seen wandering around the entrance to Peddlers Pub and is believed to tinker with the pub's locks.
For more ghost stories book a family friendly Walking Ghost Tour next time you're in the village.
Pop Into The Shops At Peddler's Village To See Their Halloween Displays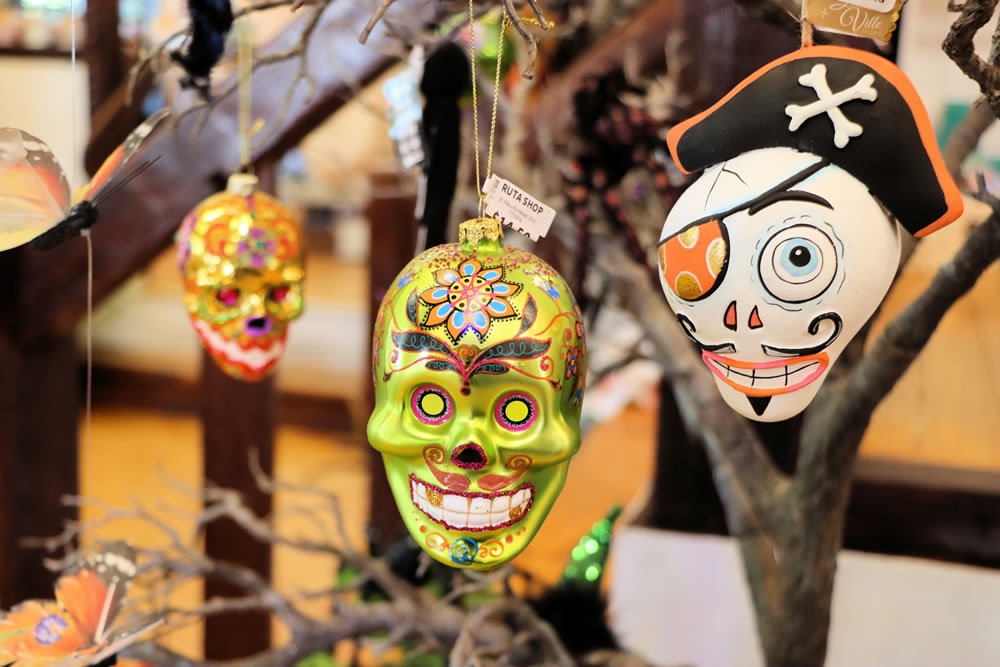 The Halloween spirit is everywhere at Peddler's Village and most of the shops get in on it too. While strolling through the village, make sure to pop into the many shops and boutiques to see their wonderful Halloween displays.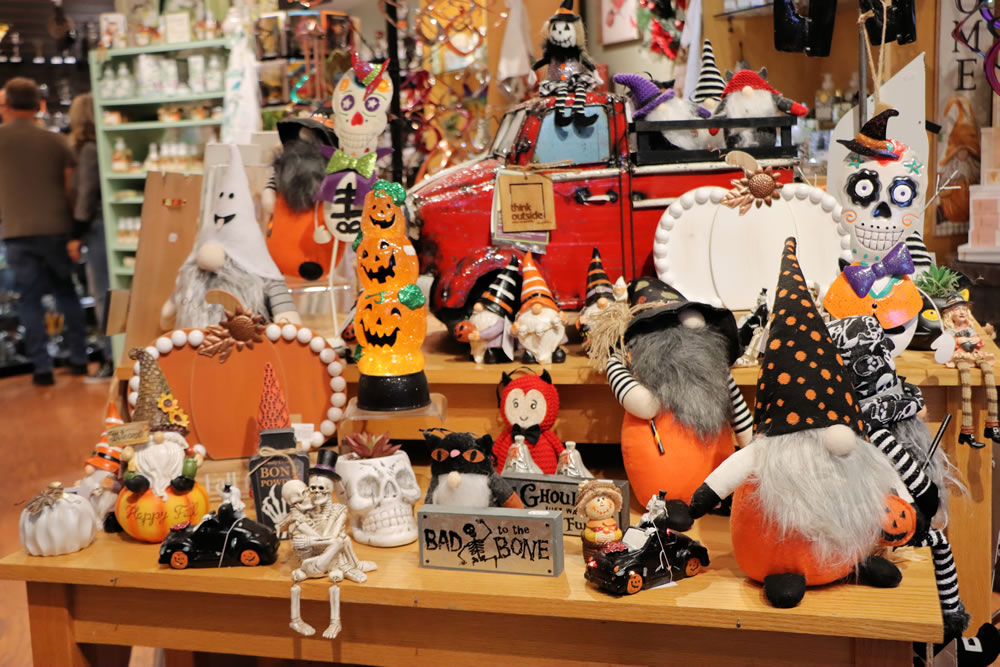 You'll find a ghoulish selection of Halloween decorations, collectables, treats, clothing, and so much more. Some of our favorite displays were found at The Mole Hole, Ruta Shop, Artisans Gallery, and Pine Wreath & Candle.
Get into the Oktoberfest Spirit at Fehrenbach Black Forest Clocks and Gifts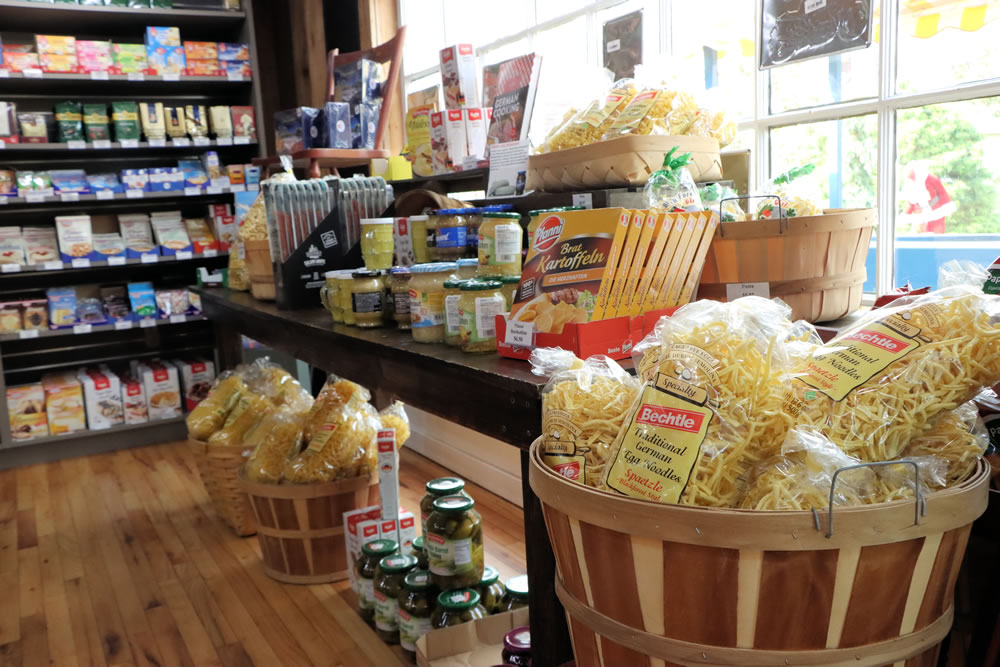 Fehrenbach Black Forest Cuckoo Clocks and Gifts
Route 263 & Street Rd, Lahaska, PA 18931 Shop #68
germanclocksandgifts.com
Every fall Peddler's Village has an Oktoberfest weekend celebration called OctoberFeast that draws major crowds. But if you love all things German and want to keep the Oktoberfest spirit alive more than one weekend a year, don't miss Fehrenbach Black Forest Cuckoo Clocks and Gifts, the largest German gift store in the entire U.S devoted to offering authentic German artisan goods and imported German delicacies.
Owned by a fifth generation master artisan woodworker from Germany's Black Forest, Fehrenbach also carries a variety of hand carved modern and traditional Black Forest made and certified Cuckoo Clocks that are irresistibly whimsical.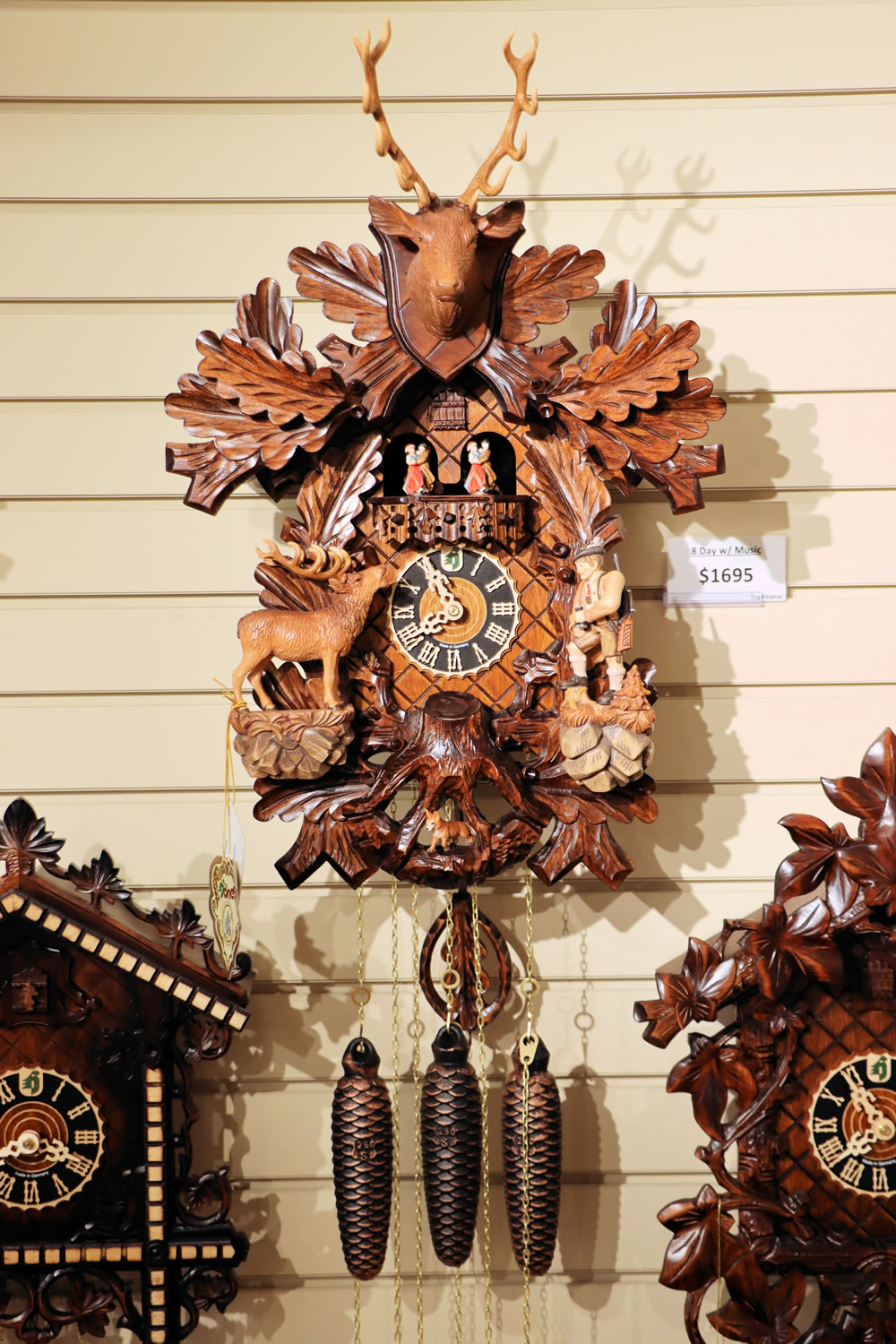 The amazing cuckoo clocks here will draw you in, but you'll also be impressed by the incredible selection of imported German foods including sausages, cheeses, pretzels, cookies, candy, condiments, and chocolates. There's even apple strudel! If you love to cook or bake, check out some of their cookie cutters and presses or pick up one of their spaetzle presses and try your hand at making this Oktoberfest favorite. Their selection of German cookbooks will guide you while you discover some new German delicacies. You can also upgrade your favorite coffee mug or beer glass from their selection of German glassware.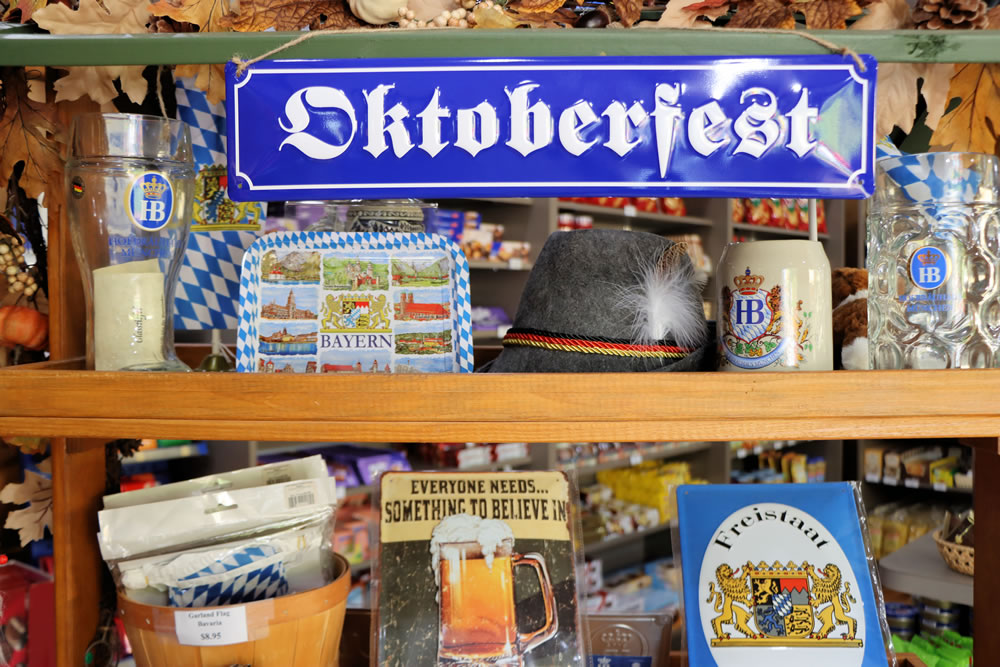 And if you're already thinking about Christmas, stop in to check out the Moravian star, hand-blown glass ornaments and nutcrackers, just like you would see at one of the many famous Christmas markets in Germany.
For All Things Pickles, Visit Pickledilly Square!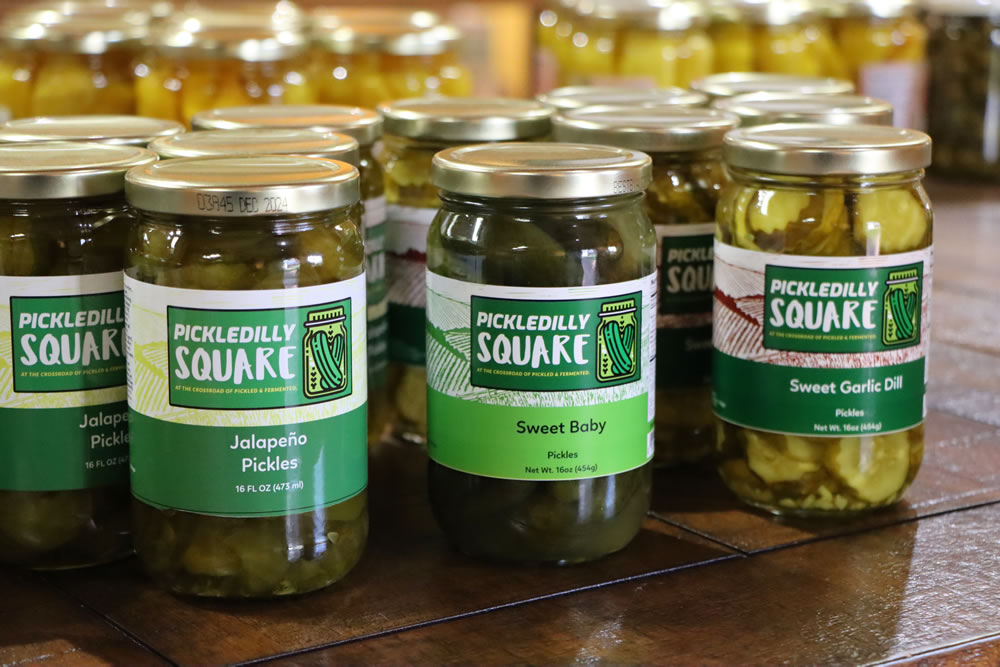 Pickledilly Square
161 Peddlers Village, Lahaska, PA 18931 Shop #161A
After a beer tasting session and exploring a shop of German specialty foods and cuckoo clocks, we were pretty excited to head over to the newest gourmet shop at Peddler's Village – Pickledilly Square! A tasting room for all things pickled and fermented, Pickledilly Square has a huge selection of pickled items in sweet, savory, and spicy flavors you won't find anywhere else. And if you're always looking for new delicious accompaniments to serve with your grazing and charcuterie boards like we are, this shop is not to be missed.
Think everything from gherkins, sweet baby dills, and pickled beets to some unusual flavors like their Apple Pie Pickles, which you just have to try for yourself. One of our favorite discoveries was their Pickled Asparagus and Hot Pickled Asparagus which are now must-haves in our house. Pickledilly Square is bringing in new products daily and don't miss their fridge of non-alcoholic fermented beverages.
Find Piccadilly Square in the Merchant Row shops, located next to its sister shop Inferno, a playground for pepper heads where you can discover and taste hot sauces and fiery snacks from all over the world.
Where to Eat and Drink at Peddler's Village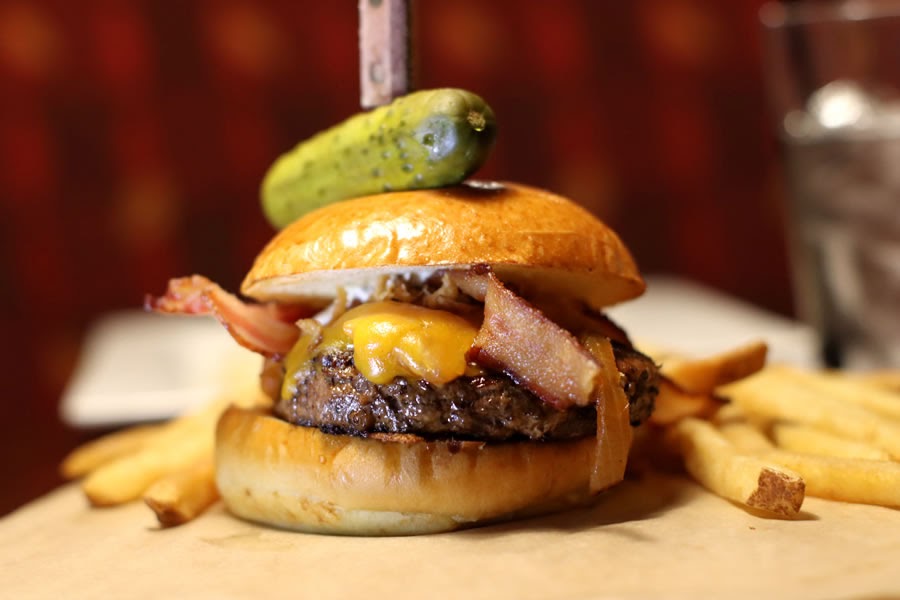 While strolling, browsing charming boutiques, and scarecrow hunting, you're going to want a bite to eat. And whether you're looking for a relaxing sit down meal or a snack to eat on the go, there's plenty of delicious eats to choose from in Peddler's Village. And throughout the village you'll find delicious fall and seasonal food and drink specials.
For coffee, snacks, and light bites at Peddler's Village, here's a few spots to try!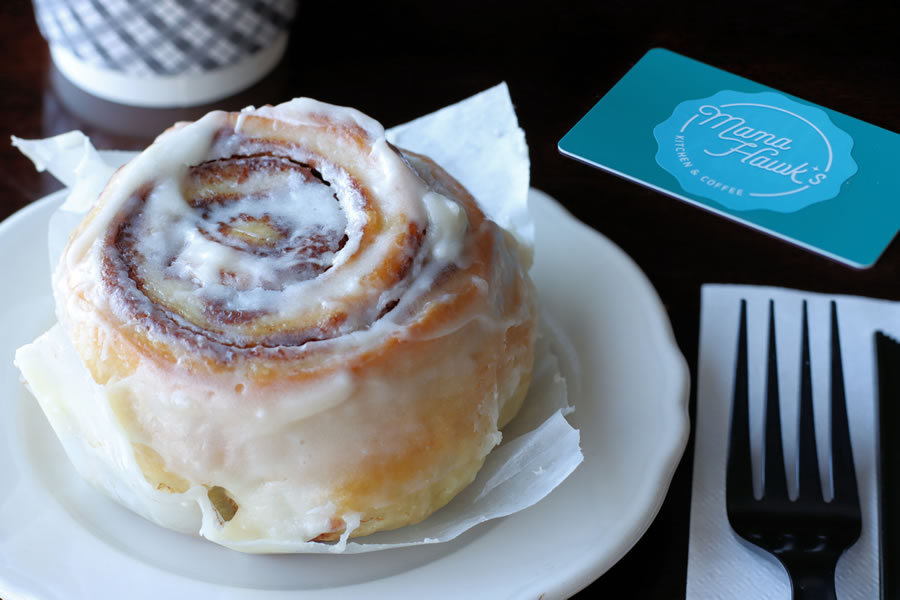 Mama Hawk's Kitchen and Coffee
58 Peddlers Village Rd, Lahaska, PA 18931
mamahawks.com
An adorable, modern rustic cafe with indoor and outdoor seating, Mama Hawk's is perfect when you want casual fare like sandwiches and pizza as well as gourmet coffee drinks and unbelievably fresh baked goods. Pillowy and perfectly sweet, their freshly baked "Novel Buns" are not to be missed. Like a cinnamon bun, these doughy treats come in a variety of flavors that change daily including Pumpkin Crumble and  Pumpkin Maple Brown Sugar, with maple cream cheese icing. YUM!
The Lucky Cupcake
29 Peddler's Village, Lahaska, PA 18931
theluckycupcakecompany.com
Who can resist a cupcake? For a variety of cupcakes and seasonal baked goods including pies, croissants, cake pops, mousse bombs and cookies, head to The Lucky Cupcake. Featured on Food Network's Cupcake Wars, this bake shop is currently offering seasonal cupcake flavors like Pumpkin Spice and Apple Pie along with traditional flavors like Devil Dog and Red Velvet.
Skip's Candy Corner
27 Peddlers Village, Lahaska, PA 18931
skipscandycorner.com
The Halloween season always puts us in the mood for candy. If you have a sweet tooth like we do, visit Skip's Candy Corner.  Skip is Peddler's Village own Willy Wonka and offers unique and hard to find candies, candy gifts, and confections made with his own special blend of imported chocolate. Skip makes the best Fudge we've ever had and offers seasonal flavors like Pumpkin.
When you want great, locally made beer at Peddler's Village head to Free Will Brewing Taproom. 
Free Will Brewing Taproom
168 Peddlers Village shop #47
www.freewillbrewing.com
For the ultimate beer tasting experience located in the heart of Peddler's Village, head over to Free Will Brewing. This local Pennsylvania brewery with a cult following serves up a rotating menu of their favorite and seasonal brews from their production brewery in Perkasie, PA.  Relax at one of the tables around their taproom or at the modern bar. If the weather is cooperating, relax on their outdoor deck for sweeping views of the village gardens. You can even take your beer to go and sip it as you stroll and shop around the village.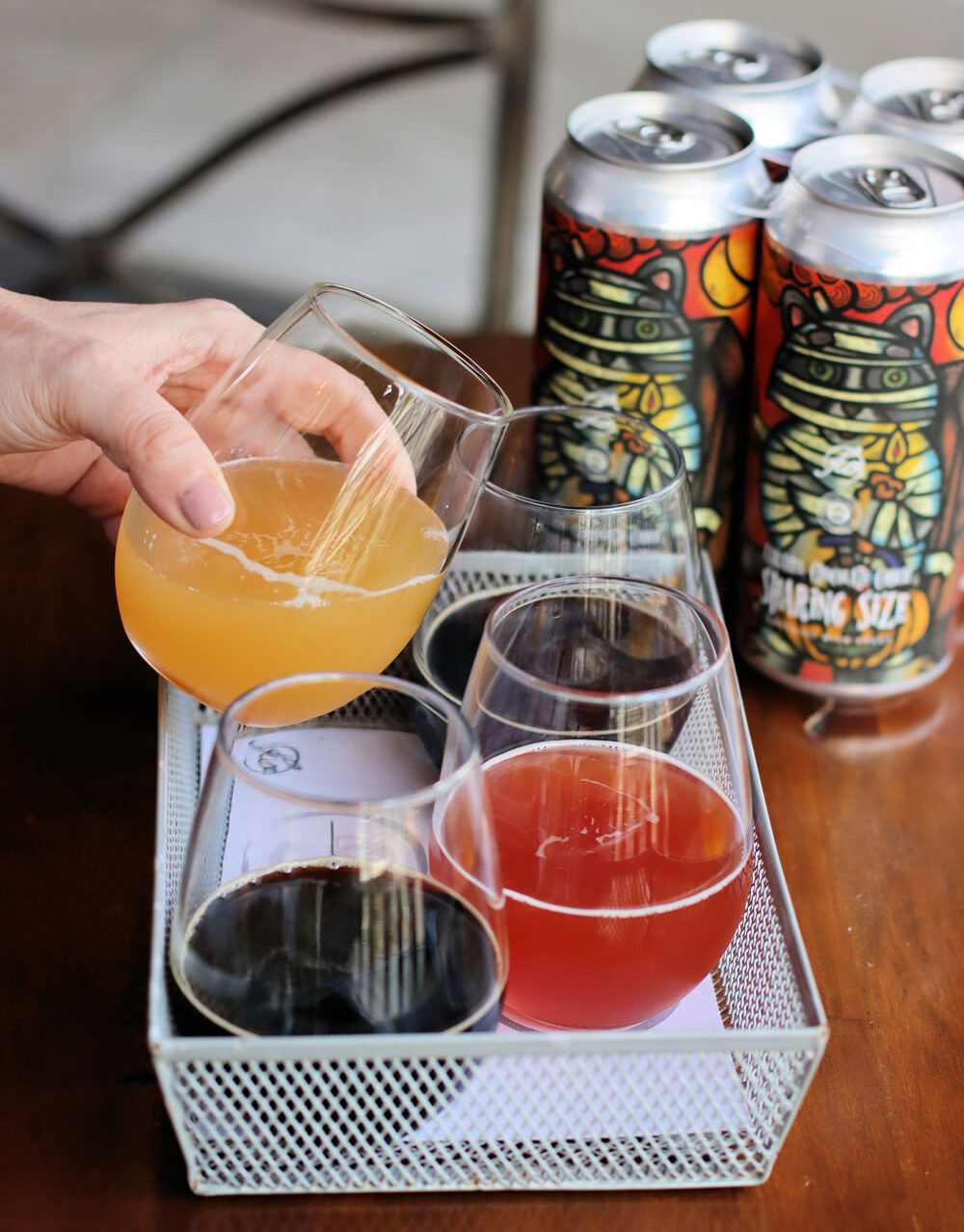 Free Will has a rotating menu that includes their own IPA's, mashes, sour ales, stouts and lagers on tap or in the bottle in a variety of delicious and creative flavors. Some of our favorites we tasted include their Chocolate Peanut Butter Stout  (10.8% ABV) and the Raspberry Lemon Mash (7.5% ABV) a sour ale brewed with raspberry, lemon, and milk sugar.  Bright, golden malty, try Free Will Brewing's Fabel (6.1% ABV). It's their twist on a festbier or fest style lager, like the ones served at the official Oktoberfest in Germany.
The beer here is fantastic, so if it's your first time at Free Will Brewing we suggest starting with a flight tasting so you can sample a few varieties to find your favorite. When you do, stop by their beer fridge and shop shelves for packs of sharing cans to take home. Check out their current menu here.
Full Service Restaurants At Peddler's Village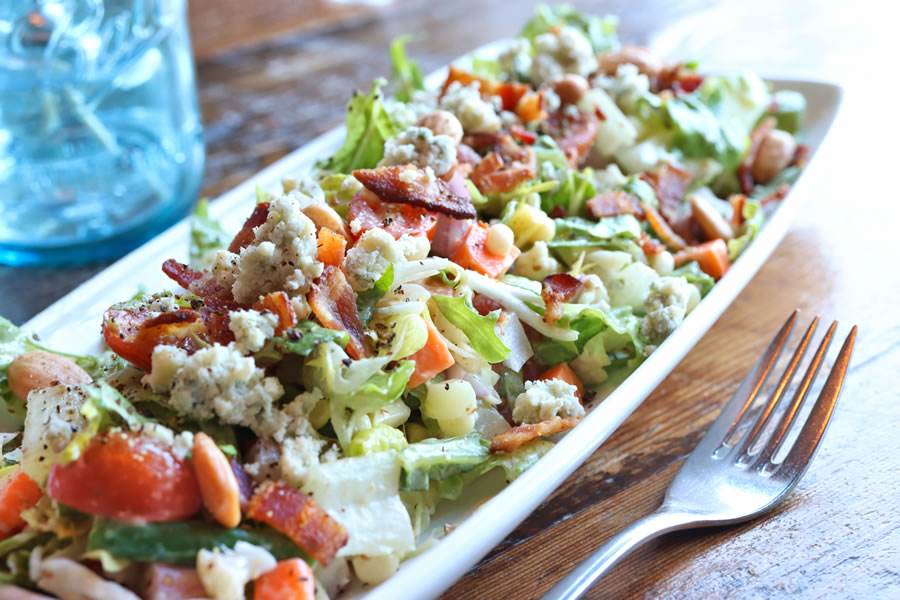 Earl's New American
2400 Street Road, New Hope, PA 18938
(215) 794-4020
earlsnewamerican.com
Earl's New American located across the street from the Golden Plough Inn is the place in Peddler's Village for a casually refined dining experience with modern farmhouse vibes, reclaimed hardwood tables and barn door backdrops. Described by Opentable as a "polished casual dining experience" and named after Peddler's Village founder, Earl Jaminson, Earl's serves up a  menu of contemporary farm to table dishes inspired by local and American cuisine. Specialties include a raw bar menu, steaks and seafood, and incredible appetizers.
In the past we expressed our love for their Chopped Salad, made with Marcona almonds, bacon, sweet corn, red onion, golden beets, blue cheese, chopped veggies and a sherry vinaigrette. A fusion of Italian and southern-inspired comfort, their Burrata appetizer with creamy Burrata served over crunchy fried red tomato slices with baby greens, toasted pine nuts and then drizzled with a balsamic glaze is sweet, salty, creamy, crunchy, nutty, decadent, and fresh all at once.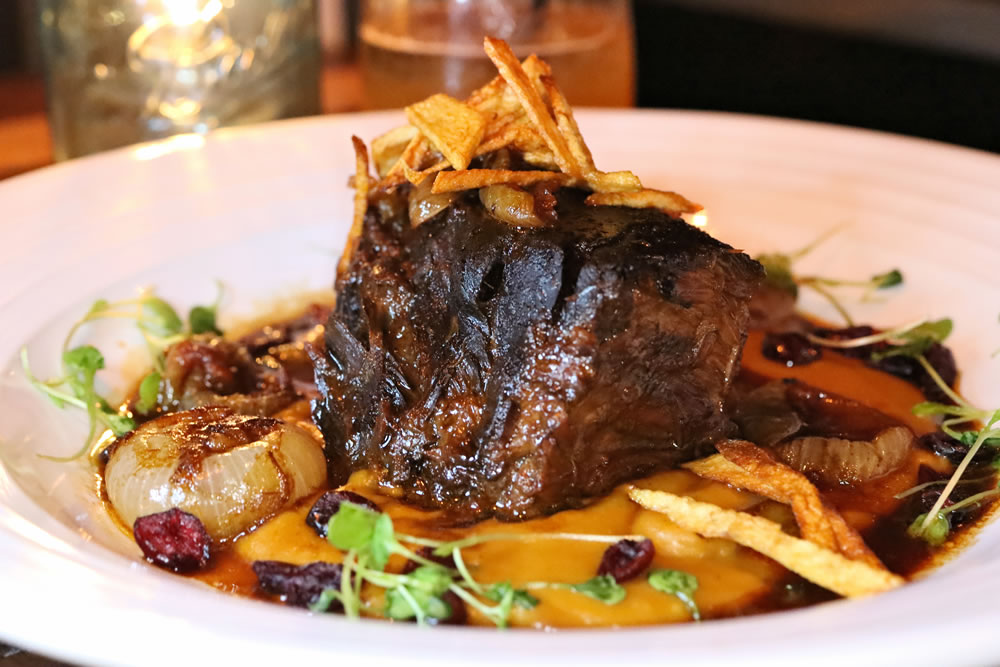 You can't go wrong with the Steak Frites, but their seasonal specials shouldn't be ignored. Absolutely perfect for fall, Earl's 5-Hour Braised Molasses Short Rib served with a fresh butternut squash purée, cipollini onions, crispy potato and dried craisins is hearty, satisfying, and delicious.
For the fall Earl's is also offering Oktoberfest specials including a Pork Cutlet over braised red cabbage and Apple Strudel for dessert. To drink, inquire about their selection of authentic Oktoberfest beers or try their Fall Sangria made with a blend of Riesling, cabernet, pinot noir, blackberry brandy, pears, oranges, apples and pomegranate.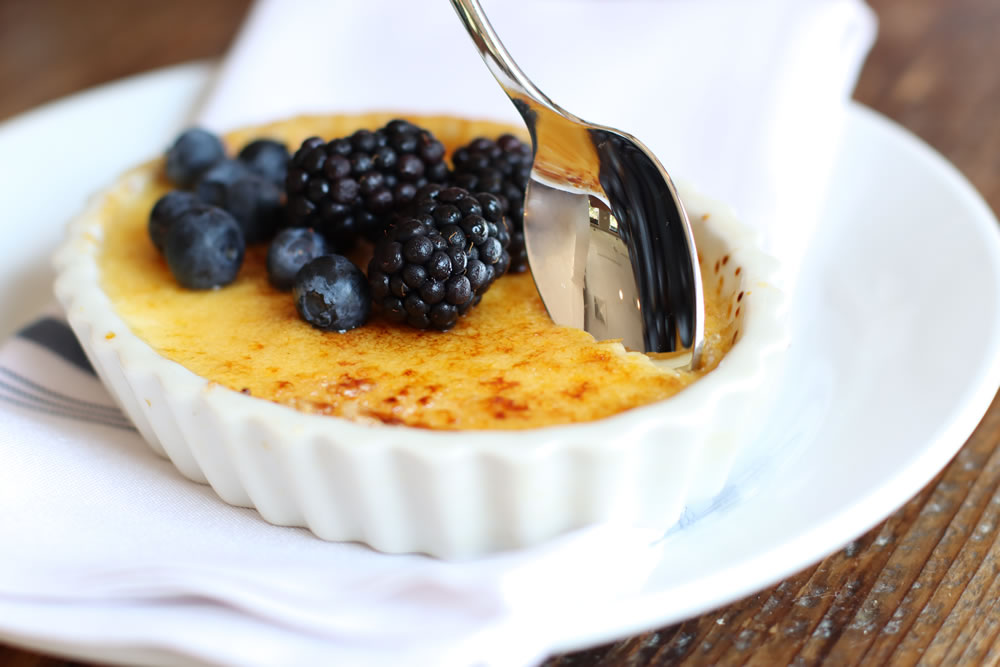 Earl's New American is open for lunch and dinner and outdoor seating is available. Check in during the week for their $35 prix fixe dinner menu available Tuesdays through Thursdays or for Happy Hour from 4 to 6 pm Tuesday through Friday. To skip the wait, be sure to make a reservation.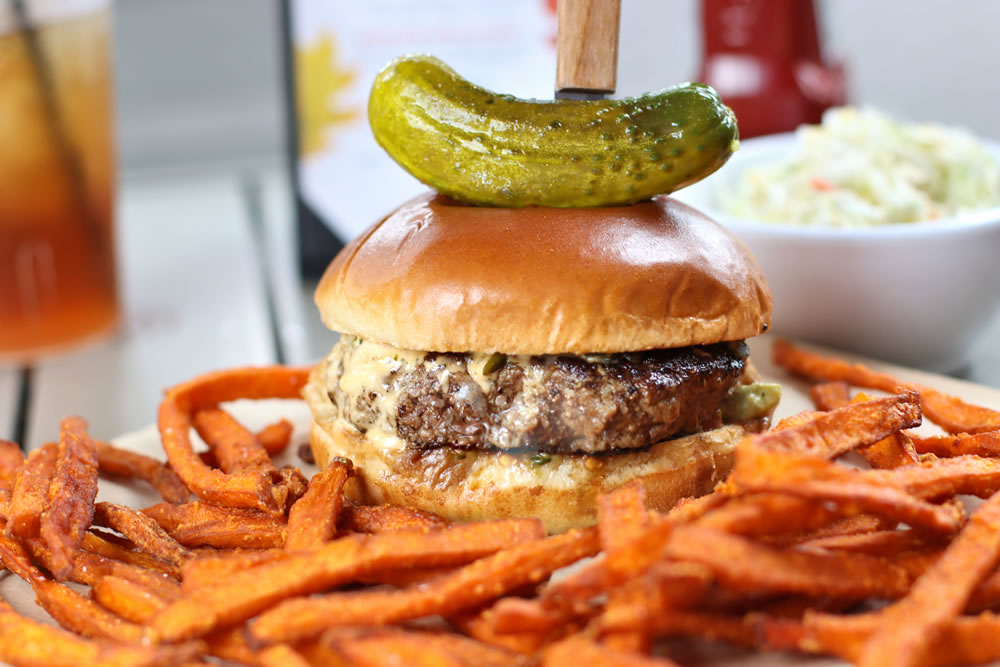 Buttonwood Grill
2400 Street Road, New Hope, PA 18938
215-794-4040
PeddlersVillage.com
Located right next to the main entrance of the Golden Plough Inn, the Buttonwood Grill is the spot for great food in a fun, casual atmosphere. They also have a large outdoor deck for when the weather's beautiful. One of our favorite places to eat in Peddler's Village, the Buttonwood always serves up consistently good food and seasonal specials like their Pumpkin Cheesecake, Pumpkin Martini, and a pumpkin beer on tap.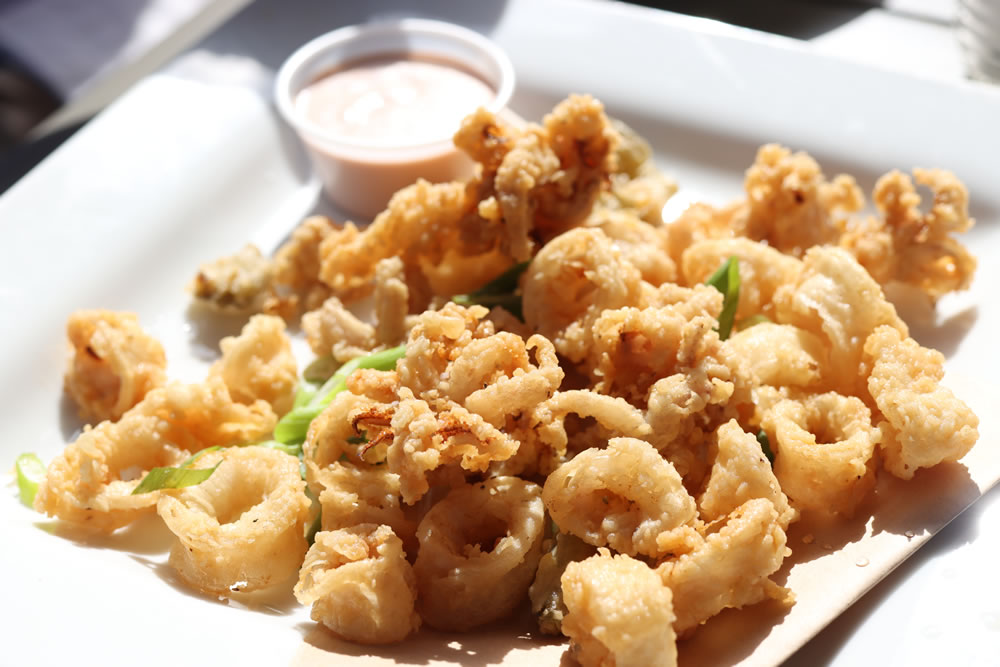 We always enjoy their Salt 'n Pepper Calamari with cherry peppers and smoked tomato aïoli. For a hearty appetizer, try the Crabby 3 Cheese 'n Spinach Dip with Artichokes and for a main the Hot Pastrami with caramelized onion served on Rye is delicious and satisfying.
And their homemade stone-fired thin crust pizzas are a crowd favorite and great for reheating at home too. Their pizza with shaved Pepperoni is always a winner, but for some local flavor try The Kennett Square topped with roasted wild mushrooms, gorgonzola, truffle oil, or the  South Philly with housemade Italian sausage, roasted Vidalia onions and sharp provolone.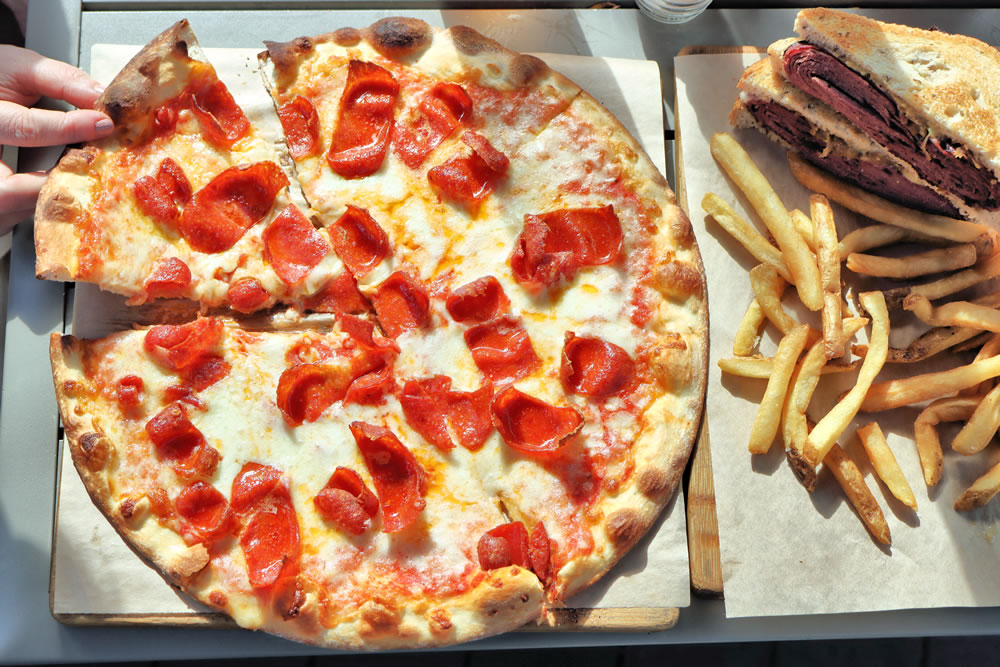 Voted the "Best Burger in Bucks County," the burgers at Buttonwood are made from their own secret blend made of chuck, brisket and short rib ground fresh daily. Their beef burgers are awesome, but if you don't eat beef, you can switch it up for a bison, turkey, salmon or veggie burger made with black beans, feta & quinoa. We love the Guinness Onion 'N Bacon burger topped with Guinness BBQ onions, sharp cheddar, and creamy horseradish and the SW Border Burger made with queso fresco cheese, "salsa style" sliced tomatoes, poblano peppers, guacamole and finished with a chipotle lime ranch.
The Buttonwood Grill is open for breakfast, lunch, and dinner and reservations are accepted. It does get busy during prime eating hours so plan accordingly. If you have to wait for a table, they'll text you when your table is ready so you don't have to sit around.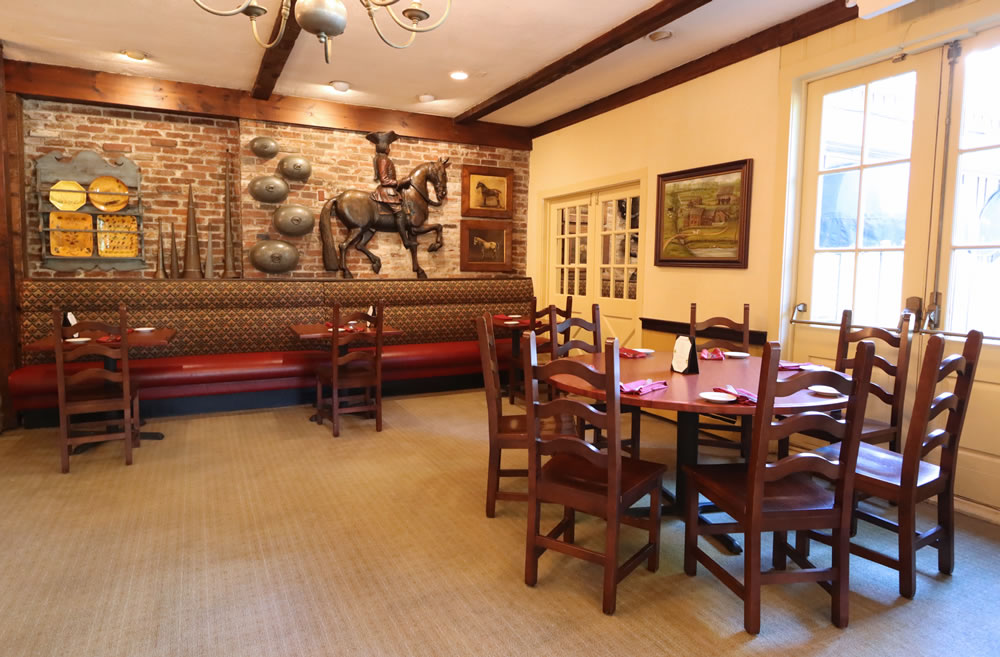 Cock 'n Bull
Route 263 and, Street Rd, Lahaska, PA 18931
Peddlersvillage.com
The flagship restaurant of Peddler's Village, Cock 'n Bull has been a local tradition for generations and is celebrating its 60th year in business. With a new chef at their helm, they've recently reinvented the menu with fresh, new and seasonal dishes inspired by southern and international cuisine while preserving favorite long-time Cock 'n Bull classics like their Chicken Pot Pie, Beef Burgundy, and their deliciously hot and cheesy French Onion Soup.  And for the fall season they're serving up some Oktoberfest specials like Beer Brats and Bourbon Marinated Flat Iron Pork Steak served with brussels & bacon hash.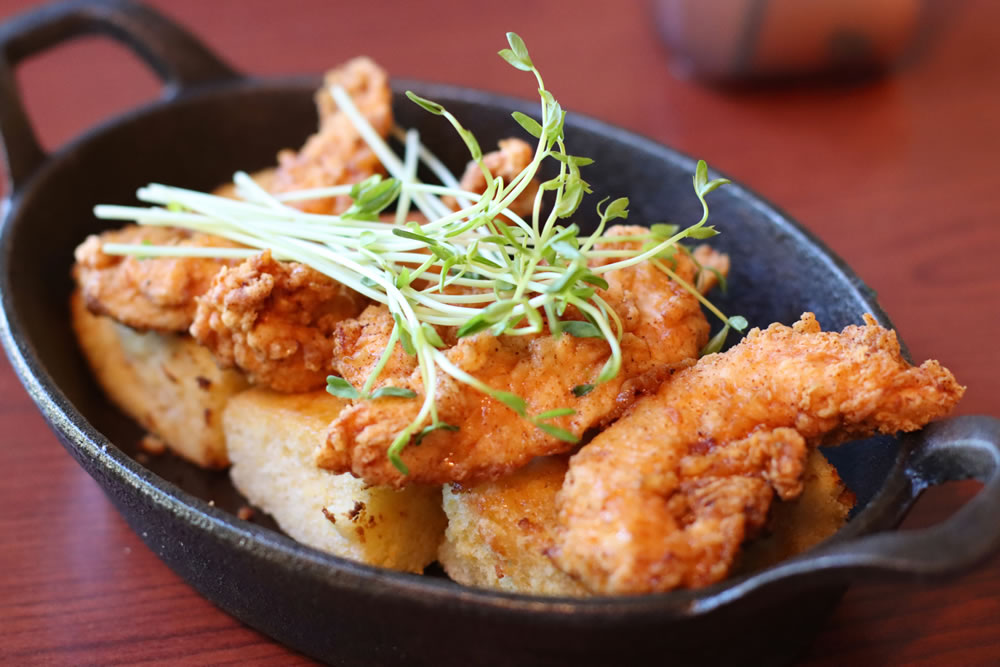 The Buttermilk Fried Chicken appetizer served over cornbread and drizzled with a bourbon honey syrup is a delicious addition to the menu, as are the crab cakes. Here you'll get two generous crispy crab cakes, served over a buttery sweet potato hash with a smoked almond cream for dipping and a kale apple salad for a fresh finish. It's a unique combination of flavors that works beautifully.
Another Oktoberfest special, the German Apfelkuchen, is a German style apple cake finished with fresh whipped cream and caramel sauce. It's the perfect sweet ending to an autumn dinner.
With great service and Pennsylvania style country charm, The Cock N' Bull serves lunch and dinner all day. See their latest menu here. 
Where To Stay in Peddler's Village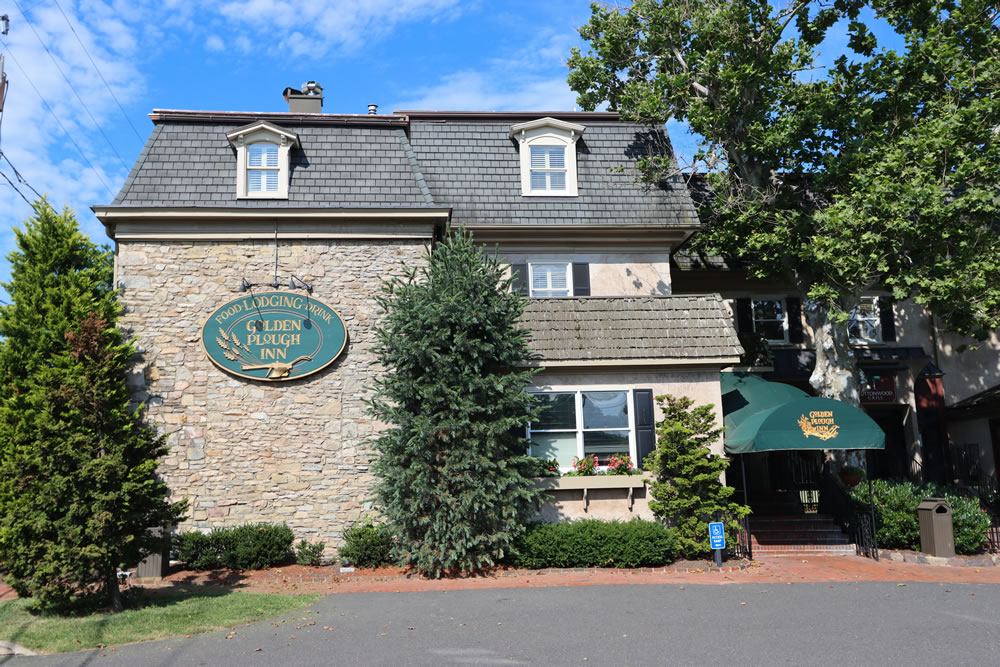 Golden Plough Inn
5883 Lower York Rd, New Hope, PA 18938
(215) 794-4004
Goldenploughinn.com
A single day and Peddler's Village is simply not enough to enjoy everything it has to offer. After a wonderful fall day of exploring the village, we highly suggest booking a room at the onsite Golden Plough Inn. With 62 elegantly decorated country home style suites and a variety of different room layouts, Golden Plough Inn provides super comfortable accommodations whether you're traveling as a couple or a large family. Choose between reserving a room in their recently renovated Main House, or in one of the guest rooms scattered above the stores throughout the village.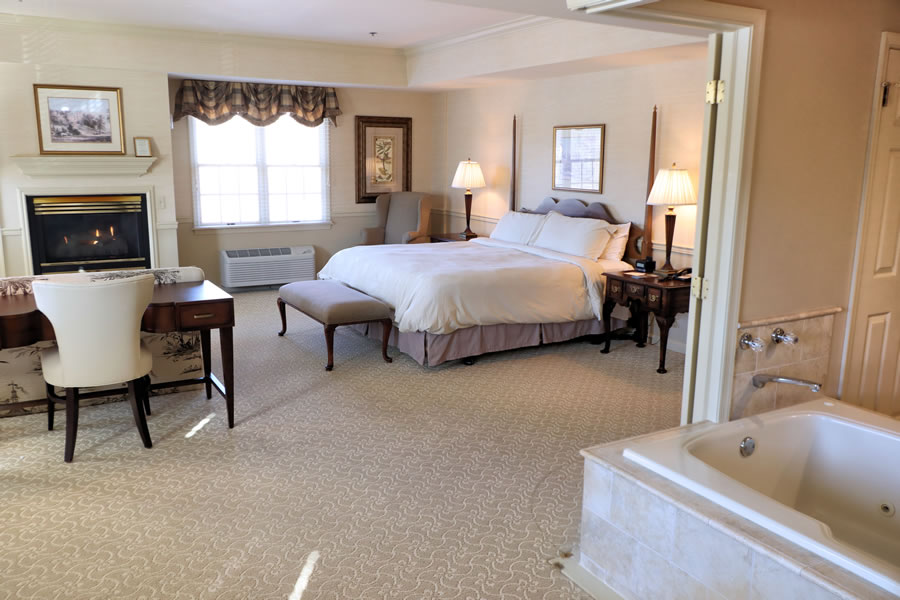 Our favorite room categories include their jacuzzi tubs and gas fireplaces that are perfect for warming up on a chilly fall night. Breakfast is served at the Buttonwood Cafe or across the street at Frescafe, which offers fresh and creative dishes made from local food served in a modern diner-like space. Both have outdoor seating.
Tip: All rooms at the Golden Plough Inn have nearby free assigned parking spots throughout the village so you never have to worry about finding a spot. See all the room layouts and accommodation options at the Golden Plough Inn here
Booking Tip: If you or someone you're traveling with has trouble with mobility, have a chat with the reservation desk before booking to discuss which rooms might be best suited.
How To Get To Peddler's Village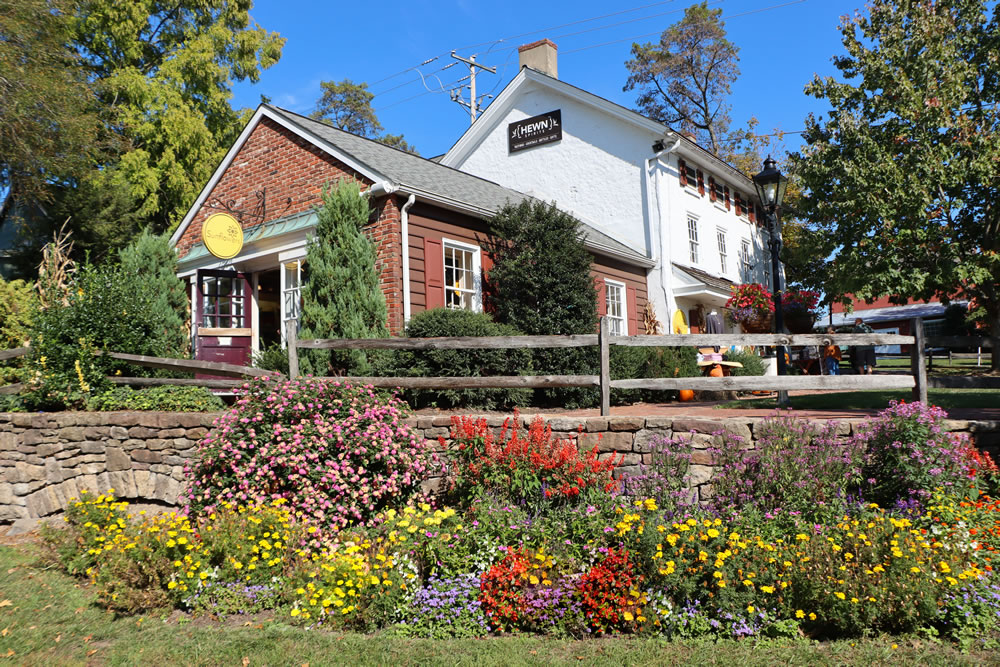 Peddlers Village is located in Lahaska, Pennsylvania. Less than an hour from Philadelphia and 90 minutes from NYC, and makes the perfect quick getaway or day trip destination if you live in the region. Peddlers Village is centrally located between New Hope 10 minutes to the east and Doylestown 15 minutes to the west along Route 202 (Lower York Road). Spend some extra days if you can and explore the nearby attractions in Bucks County including historic New Hope right on the Delaware river. 
Peddler's Village Driving Tip: It's not a mistake if you pop Peddler's Village into your GPS and it displays New Hope as it's destination address. Although it's located in Lahaska, PA some mapping programs consider it to be New Hope. Don't worry you'll still make it there just fine. 
Parking And Admission At Peddler's Village
There are no parking fees or admission fees to shop and explore Peddler's Village. There's plenty of parking and we've never had to wait long for a space. And if you're staying at the Golden Plough Inn you're automatically assigned a numbered space close to your room. 
A ride on the carousel ($2.50) and a few other activities at the kid-centric indoor family fun center Giggleberry Fair are the only things that require an admission fee in the village. You can check Giggleberry Fair's pricing menu here.
When To Visit Peddler's

Village

In The Fall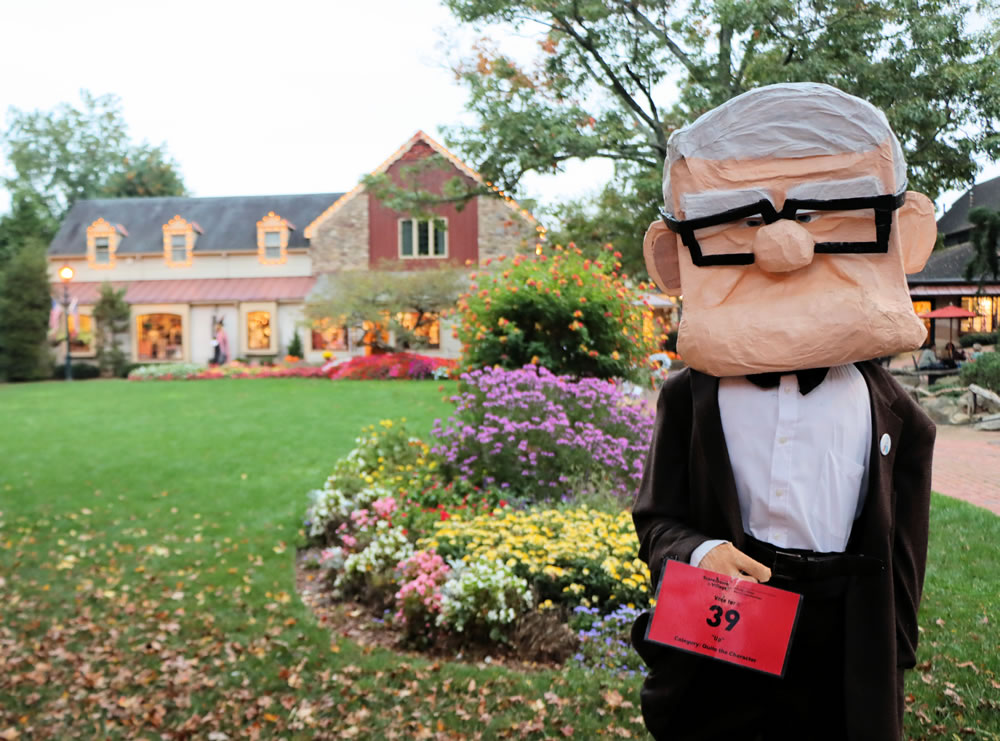 Scarecrows in the Village: September 9 – October 31st. 
Ghostly Graveyard Gala: In the mood to get dressed up for Halloween but your trick or treating days are over? Grab your costume and head to Peddler's Village  Friday October 29 and 30th from 6:30-10. They'll have live entertainment, food trucks, dancing, a haunted house, fire pits, games, photos, and prizes for the best costume! You must be 21+ to attend. Learn more here. Get your gala tickets here.
Family Mystery Walking Tours and Murder Mystery Events: Weekends only. Check the rotating schedule here.
Apple Weekend: Saturday November 6 and Sunday November 7. Celebrate the apple harvest in Bucks County with family fun from 10 a.m. to 6 p.m. There'll be lots of apple treats and you can pre-order your apple pies here.
If you can't make it for the fall fun at Peddler's Village this year, start planning now for a visit next year. 
Check the Peddlers Village event schedule for more fun and festivities scheduled throughout the year! 
➡ SUMMER FUN, FOOD, AND SHOPPING AT PEDDLER'S VILLAGE
➡ FOR A SAFE & SOCIALLY DISTANT HOLIDAY GETAWAY VISIT PEDDLER'S VILLAGE
➡ PEDDLER'S VILLAGE IN BUCKS COUNTY, PA IS A HOLIDAY WINTER WONDERLAND