By
Paul Johnson
on Sep 28, 2021 in
Accommodation
,
Attractions
,
Bars
,
Europe
,
Featured
,
Going Out
,
Hotels
,
Leisure Travel
,
Regions
,
Resorts
,
Restaurants
,
Spain
,
Spas & Pampering
,
Speciality Travel
,
Western Europe
SO/ Sotogrande is the tenth and newest addition to Accor's SO/ hotel brand, with fifteen more scheduled to open. Set in an exclusive gated community in Sotogrande, this is a luxury brand but with a distinctly rebellious twist – each SO/ hotel has its own unique identity and flair, whilst still acknowledging its roots. In the case of SO/ Sotogrande, it occupies the site of a former cortijo – a traditional Spanish farmhouse – and draws on its Andalusian heritage in a revolutionary way.
Accor even hired a designer – as they do with every SO/ hotel – to represent the resort in this regard. In the case of SO/ Sotogrande, this was women's swimwear designer Dolores Cortés who was tasked with designing a vibrant uniform for the staff. Accor wanted something new and innovative that will surprise the guest… and Dolores delivered.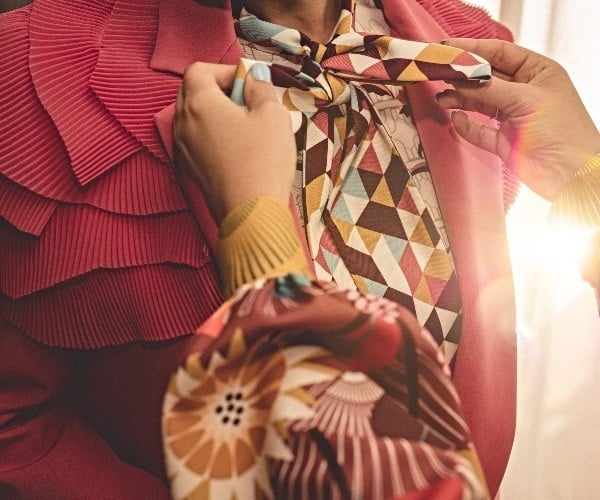 We had the great pleasure of meeting Dolores and hearing the story of her involvement – how she had originally politely declined Accor's invitation, yet how in the end she was behind not just the uniform, but also artwork at the hotel, including the hotel's emblem that depicts three iconic elements of Andalusian culture: a carnation, a fan and an arch. She also wanted to express the joyfulness of Andalucia and the personality of the resort.
The welcome
A private, air-conditioned transfer from Malaga Airport to the hotel – a journey of about 1 hour 10 minutes – made my arrival very comfortable and seamless. (Flying into Gibraltar is another option, with a transfer that takes about half the time.) On reaching the hotel, I was greeted with a refreshing drink and towel at reception whilst the formailities of the paperwork were quickly sorted and I was driven to my room in a buggy.
A personalised welcome note from the General Manager, a bottle of fizz, some fresh fruit and a dessert with 'SO/ Welcome' inscribed in chocolate were among the many treats that greeted me in the room.
The room
I stayed in a SO/ COMFY King room which, living up to its name, was exceptionally comfortable and well-appointed, in addition to having its own small balcony.
Beamed ceilings, Moroccan-inspired tiling, detailed fretwork and sweeping arches combine to give an Andalusican vibe to the hotel's 152 contemporary rooms, 36 of which are suites.
The bathroom
A luxurious Noken Porcelanosa patio bathroom holds further surprises, offering an excellent experience of comfort and relaxation. Fluffy bathrobes and a fabulous rain shower are just some of the amenities on offer.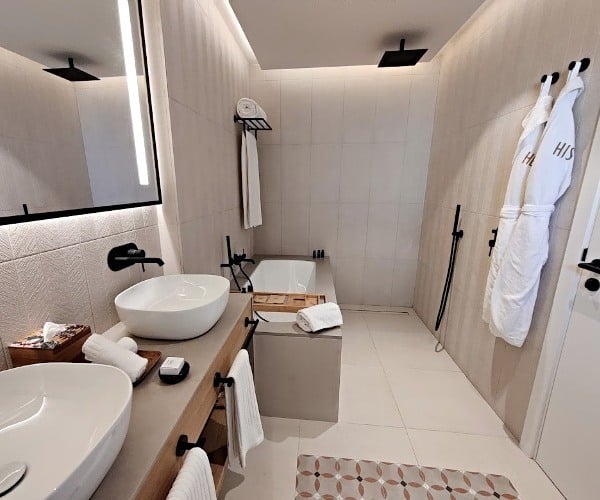 Toiletries are from Australian beauty brand Grown Alchemist whose focus is on all-natural, non-toxic ingredients.
The facilities
The hotels is equipped with no less than six restaurants and bars. HI-SO offers a chilled-out, chiringuito-style environment close to the pool, whilst the MIXO VVIP lounge is a great spot for celebrations.
The hotel's Cortijo restaurant is the perfect spot for Mediterranean cuisine with the option to dine outside on the terrace, whilst the new Society restaurant scheduled to open next year is a fine dining option with a more theatrical gastronomic offering.
Taking centre stage within the hotel complex are two outdoor pools, among the terraces and outdoor gardens, with plenty of sun loungers to choose from, and even some over-sized floating starfish to give an added splash of colour.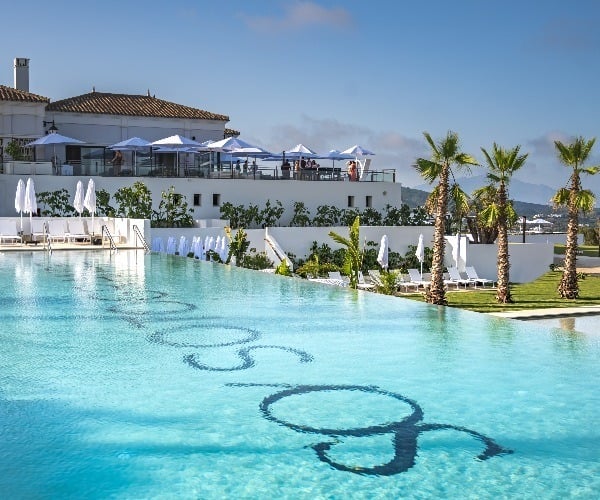 The SO/ Spa health and wellness club is a tranquil, relaxing space with a heated indoor pool as well as thermal and hydro pools. The eight treatment rooms offer everything from signature massages to body treatments, using products from QMS Medicosmetics, ESPA and Charme d'Orient.
Less mainstream treatments include cryotherapty and a flotation experience. Not having done it before, I tried the latter – it's supposed to drift you into a meditative state and clearly worked because I managed to fall asleep in the 25 minutes that I was inside! I did come out feeling rejuvenated, I have to say.
Also on site at the hotel is the 27-hole Almenara golf course. Designed by local architect Dave Thomas, its undulating fairways and deep bunkers will challenge even the most skillful of golfers.
Location
SO/ Sotogrande is located within a private gated community, offering excellent privacy and security, on the Costa del Sol. It's close to Gibraltar (30 minutes), Marbella (45 minutes) and also accessible from Malaga Airport (a little over one hour away).
Other nice touches
Extra special touches were plentiful during my short stay, from a bottle of fizz and the SO/ Welcome dessert on arrival, to this chocolate-dipped fig stuffed with hazelnuts that was waiting for me in the room.
Assorted GauGin gins were another surprise delivery that came to the room.
Cost
Rates start from £330 per night (£297 for Accor members) for the SO/ COMFY King room category, with breakfast included. Suites at the hotel start from £590 (£530 for Accor members), again including breakfast.
The best bit
The feeling of space and tranquillity. Although we stayed at a time of relatively low occupancy, it didn't feel that it would be too busy even if operating at close to capacity as there's lots of outdoor space to enjoy, not to mention multiple bars, restaurants and other facilities.
The final verdict
SO/ Sotogrande is a great place for guests seeking unconventional luxury, yet the very best of Andalusian style. The hotel also serves as an ideal place to stay for anyone thinking of investing in property in Sotogrande. To learn more about the destination, see my other post here.
Disclosure: Our stay was sponsored by Sotogrande.