Canada's ski resorts are pulling out all the stops for powderhounds to indulge in an epic winter escape, but they are also passionate about sustainability. Here are just some of the environmental initiatives that are underway at mountains across the country.
Marmot Basin
Marmot Basin in Jasper, Alberta is situated in Jasper National Park, a UNESCO World Heritage Site. The resort works closely with Parks Canada, the federal government and consultancy firms to preserve and improve the environment, through projects such as increasing habitats for wildlife – including the at-risk woodland caribou – and reducing carbon emissions by over 10,000 tonnes per year. Solar and wind energy are used to power the resort's internet and webcams, and its water supply comes from underground mountain streams that flow year-round. See more sustainability initiatives here.
Whistler Blackcomb
Whistler Blackcomb in Whistler, BC is working towards a Zero Operating Footprint, an ambitious goal that requires achieving zero waste, zero carbon and net zero emissions. The resort is well on its way, having reduced waste by more than 70 percent since 2000. Plus, a micro hydro renewable energy plant, located under the PEAK 2 PEAK Gondola, returns to the grid approximately 32-gigawatt hours of electricity annually – the equivalent of powering 3,000 to 4,000 homes, and equal to Whistler Blackcomb's annual energy consumption. Learn more here.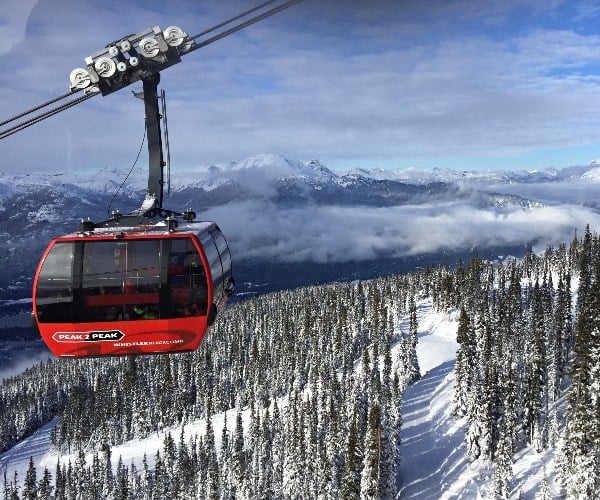 Goose Mountain
On Grouse Mountain in Vancouver, BC the Eye of the Wind is the world's first wind generator with a viewPOD, and the province's first viable wind energy solution; each year, the turbine offsets up to 25 percent of the resort's power consumption. The alpine and snow removal fleets operate on biodiesel – a first for Canadian ski resorts – and lighting systems are currently being transitioned to energy-efficient LED, including the systems that light ski runs on winter evenings. There's also the Refuge for Endangered Wildlife, which houses two orphaned grizzly bears living in a protected five-acre habitat; and runs a spotted owl rehabilitation program, a global study on hummingbirds, and projects to raise awareness of the challenges faced by wildlife in BC. Read more about environmental and social sustainability initiatives here.
Mont Tremblant
In 2021, Mont Tremblant in Québec became the first business in the province to earn Ecocert Canada's Level 3 certification, which confirms the integration of sustainable development principles and the implementation of eco-responsible practices. The resort also partners with Carbone boréal to offer guests an opportunity to offset carbon emissions generated by their stay; and was the first resort in the country to join Protect Our Winters Canada, a movement of businesses, professional athletes and outdoor enthusiasts advocating for large-scale policy solutions to climate change. Read more here.