The holidays are a time to count your blessings, but they're also a time to count your desserts. If you have a sweet tooth like me, Thanksgiving is the day we've been training for all year, when treating ourselves becomes a national duty. Turkey and stuffing are great and all, but don't we all really show up for grandma's famous pumpkin pie? Even though this season is a dessert-lover's time to shine, I thought I'd have to sit out during the holidays when I was forced to remove gluten and dairy from my diet years ago. But these days there's no shortage of delicious dessert recipes out there that can cater to any special diet. After years of experimenting with every gluten-free flour and egg substitute on the market, I can attest that these are the best gluten-free dairy-free dessert recipes out there.
From pies to cookies to homemade ice creams, we've rounded up the best gluten-free, dairy-free dessert recipes that are festive, easy and truly delicious.
While baking can be intimidating, there's something special about slowing down in the kitchen for the holidays. Many of us wouldn't spend more than one-hour mixing, fondant-shaping, and frosting on a regular night, but when Thanksgiving arrives we're ready to roll up our sleeves and whip up something divine. Plus, the final product is always worth it, and there's nothing more satisfying than a delicious, homemade dessert that you can share with loved ones guilt-free. Even though gatherings might still look a little different this year, we all deserve a treat, and most of these recipes are simple enough to create solo with minimal ingredients.
We've got options that are also refined-sugar-free, so they're (dare I say) healthier alternatives than your traditional confections and won't leave you with that dreaded sugar hangover. So scroll on for our favorite gluten-free dessert recipes (that are also dairy-free) to satisfy everyone on your list.
All recipes can be made gluten and dairy-free. We've included some vegan, soy-free, refined sugar-free, and nut-free options, but as always, be sure to carefully read all of the ingredient information to ensure it's free of any allergens or restrictions you might have. 
No matter how you slice them, these pumpkin pie squares are a delicious gluten-free, vegan spin on a traditional pumpkin pie. The homemade graham cracker crust is topped with a fluffy, creamy pumpkin layer that makes for the perfect holiday indulgence. (gluten-free, dairy-free, vegan, soy-free)
If you've been on the search for the perfect gluten-free, vegan chocolate cake, look no further. Rich and decadent, this chocolate cake is ideal for special occasions, and perfect for gluten-free Christmas baking. (gluten-free, vegan, dairy-free)
These no-bake bars taste just like pecan pie with a rich layer of dark chocolate in the middle and a delicious crumble topping. (gluten-free, dairy-free, vegan)
These snickerdoodle-esque cookies are topped with a delicious dairy-free peppermint cream cheese frosting and are perfect for decorating. (gluten-free, dairy-free)
No dessert spread is complete without homemade ice cream, and this recipe from Minimalist Baker nails it. It's rich, perfectly sweet and oh so smooth. (gluten-free, vegan, dairy-free)
With a sweet date and pecan crust, these guilt-free pumpkin bites come together in a flash and there's no baking required. (gluten-free, dairy-free, paleo)
Why make an apple pie when you can have an apple crisp? These caramelized cinnamon apples are topped with a deliciously nutty, crunchy topping that's to die for. (gluten-free, dairy-free, vegan)
Ginger cookies are a holiday staple, and these delicious treats strike perfect balance of spice and sweet. These can easily be made grain-free with a gluten-free flour and are the perfect gift for a neighbor or loved one celebrating from afar. (gluten-free, dairy-free, nut-free, vegan)
Naturally-sweetened and downright delicious, this might be one of the healthiest holiday desserts around.(gluten-free, dairy-free, vegan)
If you're feeling fancy and want to bring something different to the table this year, this spice cake is as delicious as it is pretty. The applesauce makes for a perfectly moist center that is packed with flavor and topped with a vegan cream cheese glaze. It's also the perfect recipe for some gluten-free Christmas baking. (gluten-free, dairy-free, nut-free, vegan)
Nothing hits the spot quite like a good old cinnamon roll. This recipe is a guilt-free take on a classic that is perfect for those slow holiday mornings. (gluten-free, dairy-free, vegan)
This sunflower seed butter and coconut cream-based tart is paired with a crispy oat cookie crust that is easy and tasty. (vegan, gluten-free, dairy-free, nut-free, soy-free)
These light and crispy madeleines make for a fun day of decorating, and are as delicious as they are pretty. (gluten-free, dairy-free, nut-free, vegan)
This no-bake pie is rich in flavor and velvety in texture. (gluten-free, dairy-free, vegan, soy free)
These brownies only call for 5 ingredients and there's no oven required. Shouldn't dessert always be this easy? (gluten-free, dairy-free, vegan)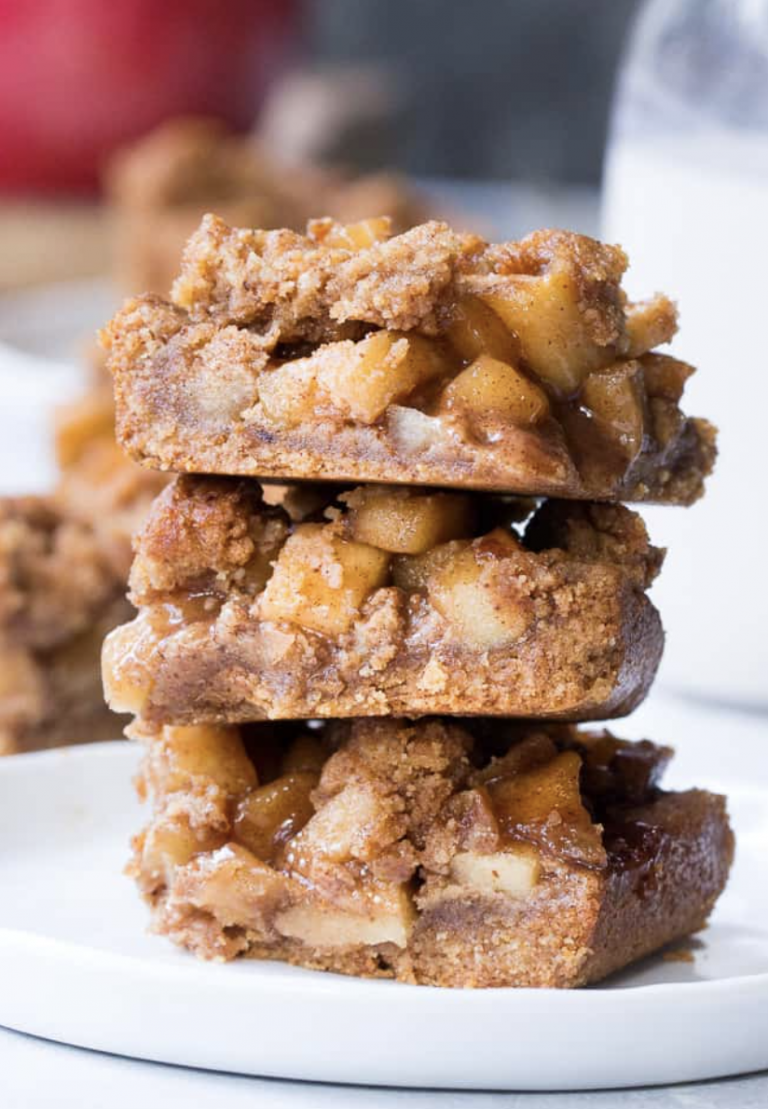 Everything you love about apple pie, but in bar form. This recipe has an almond butter crust that everyone will love. (gluten-free, dairy-free, vegan)
Starting my day with dessert is one of my favorite things about the holidays. You won't even notice that this coffee cake is allergy-friendly. This is my go-to recipe when it comes to gluten-free Christmas baking, as it pairs wll with matching PJs and family time. (gluten-free, dairy-free, vegan)
Just look at how fluffy and chewy these pumpkin cookies are. Perfect for Thanksgiving, Christmas, and edible gifts, this recipe is one that everyone will enjoy. (gluten-free, dairy-free, vegan)
I don't care how cold it is, I am always down for ice cream. These fudge pops are especially great because you can make them ahead of time, i.e. they are stress free. (gluten-free, dairy-free, vegan)
My family is addicted to peanut butter cups, so I love the fall twist that adding pumpkin seeds adds. Make these with whatever nut butter you prefer. This recipe is easily made vegan by subbing vegan chocolate for dairy-free dark chocolate and maple syrup for honey. (gluten-free, dairy-free)
This post was originally published on November 19, 2020, and has since been updated.