By
Kristof Eyckmans
on Oct 26, 2021 in
Accommodation
,
Africa
,
British Virgin Islands
,
Caribbean
,
Celebrities
,
Europe
,
Hotels
,
Italy
,
Oceania
,
Pacific Islands
,
Regions
,
Resorts
,
South Africa
,
Switzerland
,
Travel Miscellany
,
Western Europe
We might not always realise it, but we can pretty much travel anywhere on this globe and enjoy uninterrupted holidays. Celebrities however don't always have that luxury. They are spotted and chased by paparazzi, fans, press and who knows what else. As a result they prefer travelling to places that aren't always easy to reach or where they can hide from the camera. Of course, these spots aren't common so the ones that do tick all the boxes quickly become a safe haven for many A-listers and global celebrities in general. So if you want to increase your chances of bumping into one of them you better start planning your next trip to one of these high-end retreats.
Necker Island, British Virgin Island
Spotted in the past: Kate Winslet, Robert De Niro, Mariah Carey, Harry Styles…
Located in the British Virgin Islands and owned by Richard Branson, an A-lister himself, this is arguably one of the most well-known celebrity island retreats in the world. Richard often invites several of his well known friends over to Necker Island but even without him being around, they do flock in on a very regular basis. And why wouldn't they? Great weather, luxurious accommodation and most importantly…total privacy. The island is usually rented out exclusively but occasionally us, mortal souls, can also enjoy this slice of heaven in a slightly more affordable way during the Celebration Weeks. In other words, during a select amount of weeks throughout the year, the island does rent out individual rooms instead of just exclusively to one person.
As you would expect, sustainability is an important factor on the island and the combination of solar panels and wind turbines make sure you don't feel too bad when leaving on the light a little bit longer. And the regular wind also allows for some proper fun during the day. Kite surfing and sailing are just two examples of entertaining yourself but the list is literally endless. The stand outs for me are the spa during the day and the parties during the night. The island is known to have hosted some legendary celebrations and the team of Necker Island can throw you a party like no other.  After all, if you stay like a celebrity, you can also party like one!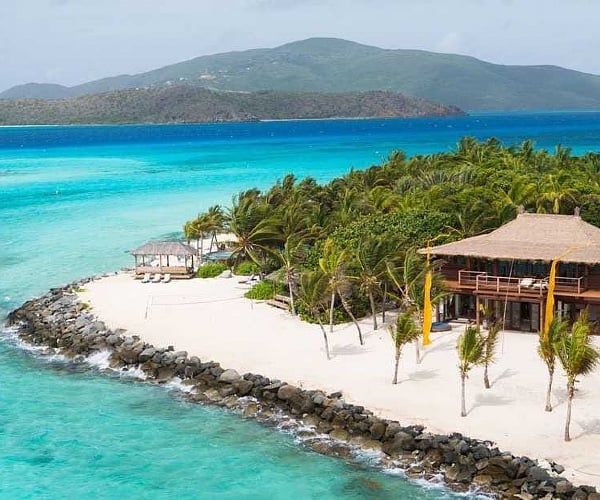 Royal Malewane, South Africa
Spotted in the past: Elton John, Bono, Richard Gere, Paul Allen…
A totally different affair than Necker island is the beautiful Royal Malewane. Impossible for paparazzi to get a shot of you here as it's located in a private game reserve in South Africa, hence its success with the rich and famous. The amazing suites are beautifully decorated with antique furniture from around the world, combined with amazing patterns and textures, all by the hand of Liz Biden who together with her husband created a few of these luxurious gems across South Africa.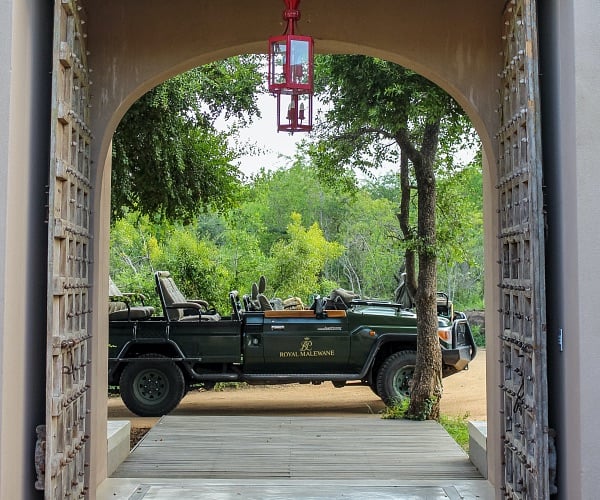 Celebs who travel with a whole crew don't have to worry about privacy as the Royal Malewane has both the Africa House and the Farmstead on offer. The first is a six-bedroom villa in the middle of the bush where guests can stay in total luxury, surrounded by elegant interiors and a decor that has more than one story to tell. The Farmstead on the other hand is like a mini-version of the Royal Malewane with only 3 luxury farm suites plus a 3 and a half bedroom private villa.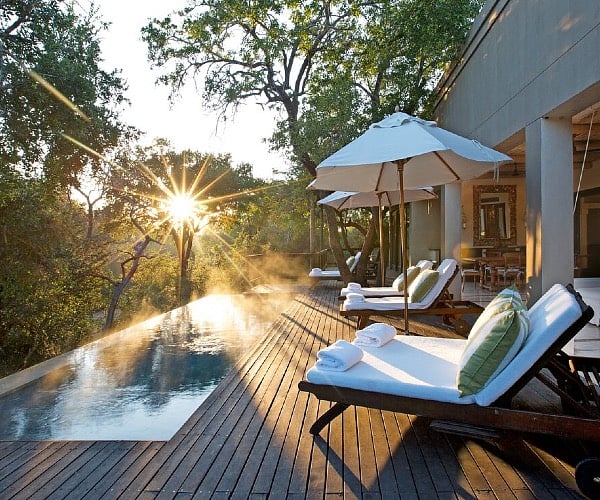 So besides all the amazing suites and culinary treat…why do they come over here so often? Well to start off, all the guests have their own ranger, tracker and game vehicle. No need to worry about sitting together with a bunch of groupies in the same jeep. As it is located in a private game reserve, they apply different rules like for example maximum 2 vehicles at one sighting. Not only does this allow you to have an almost unobstructed view of the wildlife, but also limits the chance of anyone else seeing you. At the end of the day it's the perfect hideaway if you're famous and want to escape into the wild, albeit in the most luxurious and enjoyable manner possible.
Belmond The Cipriani, Italy
Spotted in the past: George Clooney, Beyonce, Anne Hathaway, Lady Gaga…
Few cities in the world are as liked by celebrities as the one and only Venice in Italy. The famous film festival might have something to do with it, but even so, the A-listers like to linger in this ancient city on the water. Who can blame them, when you are surrounded by history, art and maybe most importantly some of the best food in the world. The preferred place to stay is without a doubt the Cipriani hotel, which is part of the Belmond portfolio. This iconic hotel has everything going for it, from the luxurious rooms and suites, to the ideal location across the water from St-Mark's square, all the way to the secluded gardens where you can easily organise an amazing dinner party out in the open without any possibility to be seen by the press.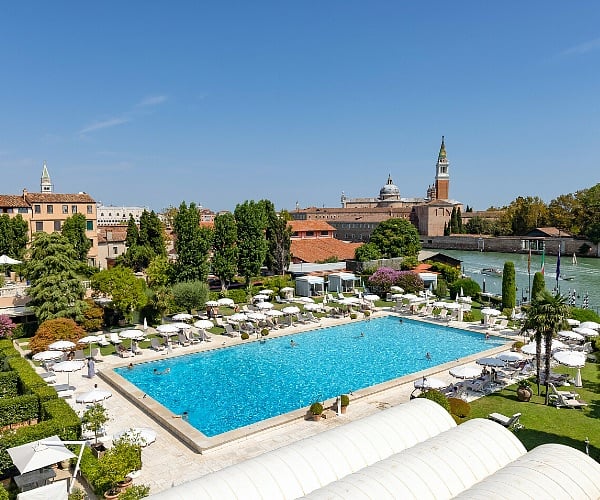 What truly stands out at the Cipriani is the staff. Warm, charming, experienced, discreet and most importantly with a love for their job, they are truly the backbone of it all and without a doubt the main reason why there are so many return guests of which a good chunk being celebs. Being in Italy, the culinary aspect is equally important, hence why it houses 2 of the hottest restaurants in the city, being Cip's club (with arguably the most stunning views in the whole of Venice) and Oro which has been rewarded with a Michelin star and makes sure your taste buds are also on a luxury escape. Pro tip; go sit at the Gabbiano bar, order a Bellini cocktail which by the way was invented by Cipriani and enjoy the atmosphere while keeping your eyes open to spot any A-listers walking in.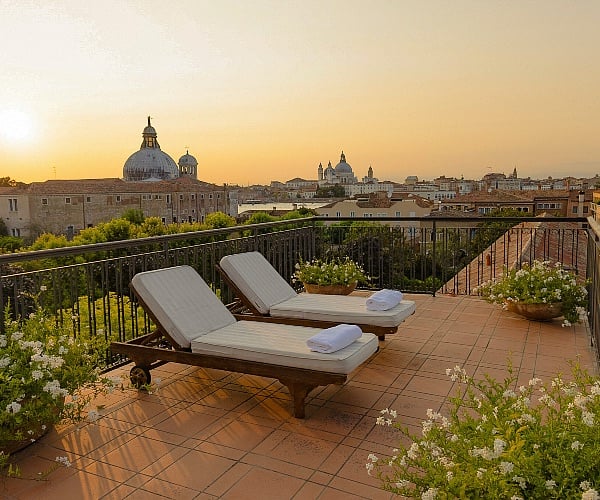 The Brando, French Polynesia
Spotted in the past: Barack Obama, Oprah, Leonardo DiCaprio, Pippa Middleton…
If the whole world recognises you there's very few places where you can escape to in order to really relax without worrying about who's going to scream at you behind the next corner or ask for an autograph whenever they see fit. However, plenty of remote islands in the Pacific where you won't have any of those issues, and the Brando is one of the best options out there, hence why our celebs fly in from all over the world to spend some quality time here. The name of the resort itself gives it away but this slice of tropical godsend is the result of actor Marlon Brando filming "Mutiny on the Bounty" and instantly falling in love with the location. What followed was Brando buying one of the islands in 1967 to call it his home. Only later did he convert it into the resort it is today.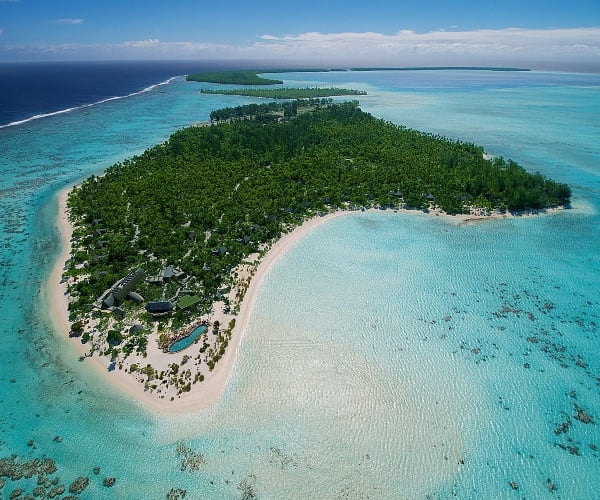 The accommodation solely consist of villas, who are all blending in perfectly with its surroundings. Ample space to relax, breathe and forget about the rat race you left behind at home. And that's exactly what the rich and famous are looking for, and it's here where they'll find all of it. Who wouldn't like to walk around a small tropical island, where a gentle breeze blows and the warm water from the ocean softly crushes onto the white sandy beaches? Indeed…and celebs aren't any different to us when it comes to enjoying this experience, especially when they can do so without another soul looking to snap a picture of them.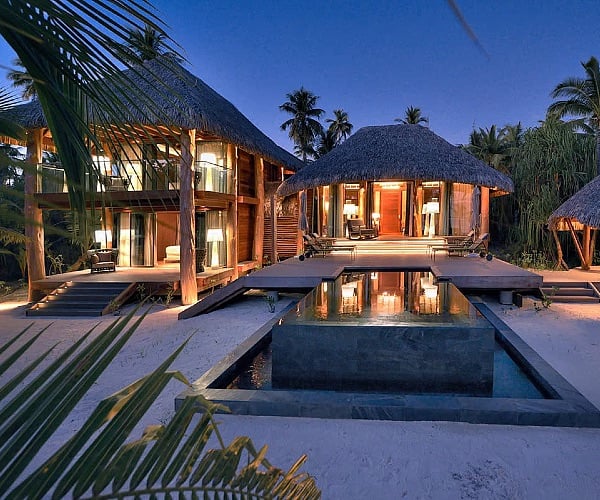 The Gstaad Palace, Switzerland
Spotted in the past: Paul McCartney, Quentin Tarantino, Robbie Williams, Guy Ritchie…
We all know that many celebs like Switzerland for its financial institutions, but you would be surprised how many of them actually fly over to have a proper vacation in this clean and comfortable country in the Alps, instead of just coming over to add some more bills to the pile. And the Gstaad palace is an all-time favourite among them. Located near the ski slopes it's the ideal hotel for those who want to be active, yet enjoy the understated luxury it has to offer. Don't expect opulent or flashy rooms as those can be found in other places around the world. Rather embrace the more traditional style with lots of woodwork and warm inviting interiors which invite you to snuggle up and enjoy the amazing views which can be seen from any of the 90 rooms and suites.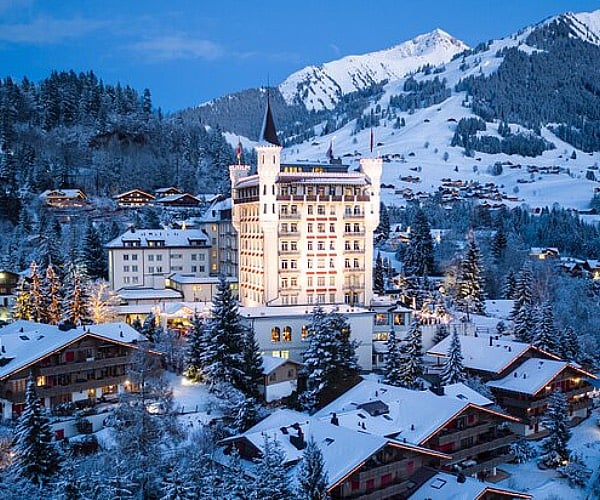 The Gstaad Palace isn't so much about trying to avoid any paparazzi or a crazy bunch of fans, it's more about indulging yourself in a relaxed atmosphere where almost nobody turns their head when a star walks past. It's OK to be seen here cause by being situated in one of the most elite places on this planet, people tend to go about their own thing without freaking out. All in all the perfect place to see many A-listers doing their thing in a more natural way and environment.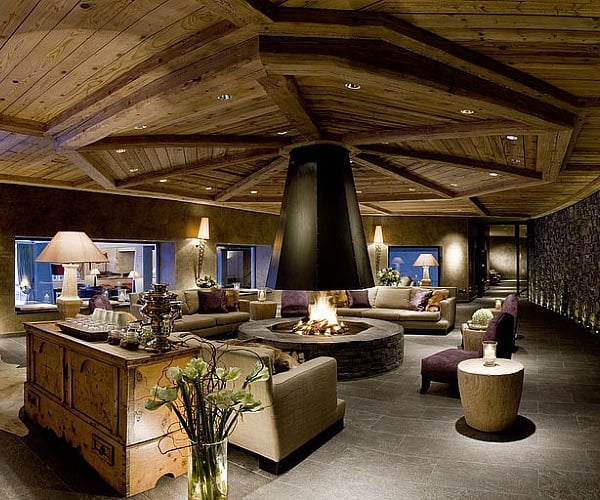 Where would you go if you were to be a celebrity?