No matter how much I eat at Thanksgiving, I always have room for dessert. Making the desserts is also one of my favorite parts of the entire holiday. While my mom is focused on cooking the rest of the meal, my sisters and I get together and make my great-grandmother's recipes for the most delicious chocolate pie and pumpkin pie every year. The fun part is, some years we just make two pies and only have six guests, but other years, it's five pies and 13 guests. No matter how many people you're celebrating with this year, there are plenty of dessert recipes that can either be doubled or prepped ahead of time to serve large numbers. If you've been searching for the best Thanksgiving dessert for a crowd, look no further than this list. Whether it's a classic apple pie turned slab pie, or a unique twist on pumpkin cookies, these dessert recipes will feed and please your whole family. 
12 of the Best Thanksgiving Dessert Recipes
Chocolate Slab Pecan Pie
Why We Love It: To feed a crowd with this always-delicious classic, Katie Wahlman doubled her favorite recipe and baked it in a jelly roll pan instead of a classic pie tin. Cut into squares instead of sliced in triangles, it's similar to a pecan bar but doesn't skimp on the gooey pecan filling.
Hero Ingredient: Every pie needs a bag of chocolate chips, IMO.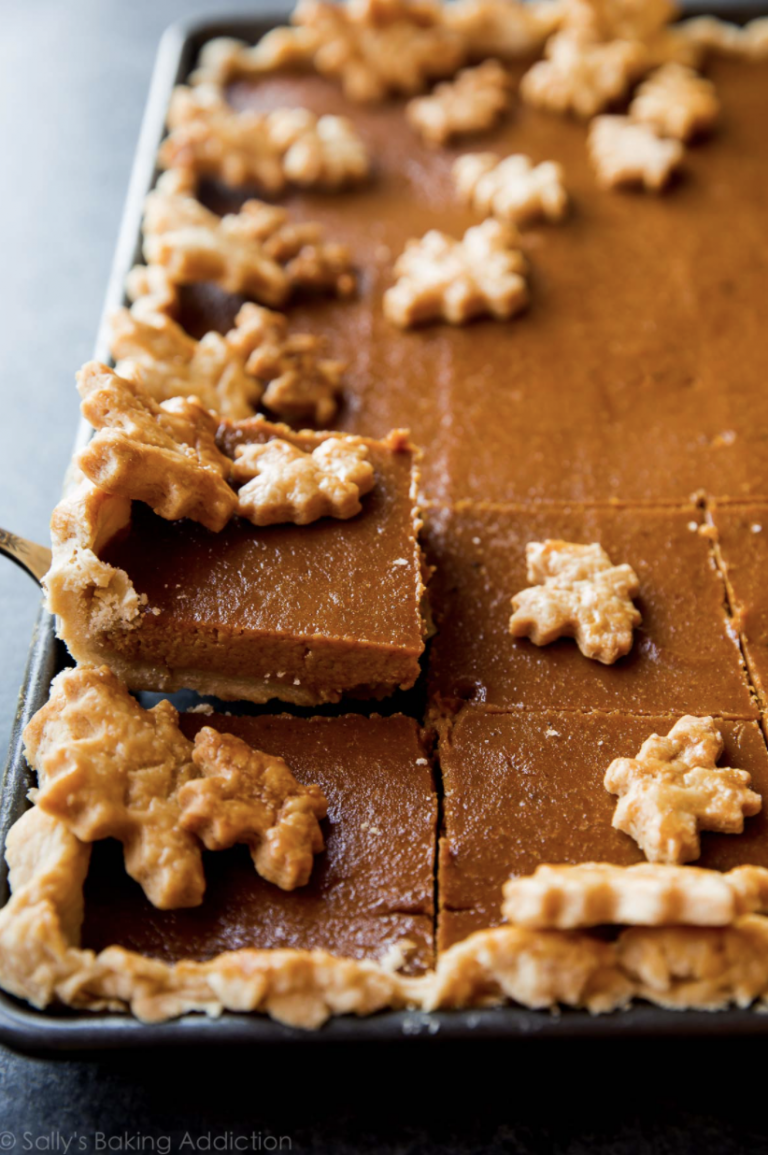 Pumpkin Slab Pie from Sally's Baking Addiction
Why We Love It: Pumpkin pie lovers, this recipe is a way to keep the classic, but feed the masses. It also has one of the butteriest, flakiest, yummiest pie crusts ever. 
Hero Ingredient: This might be basic, but the pumpkin is the real winner here.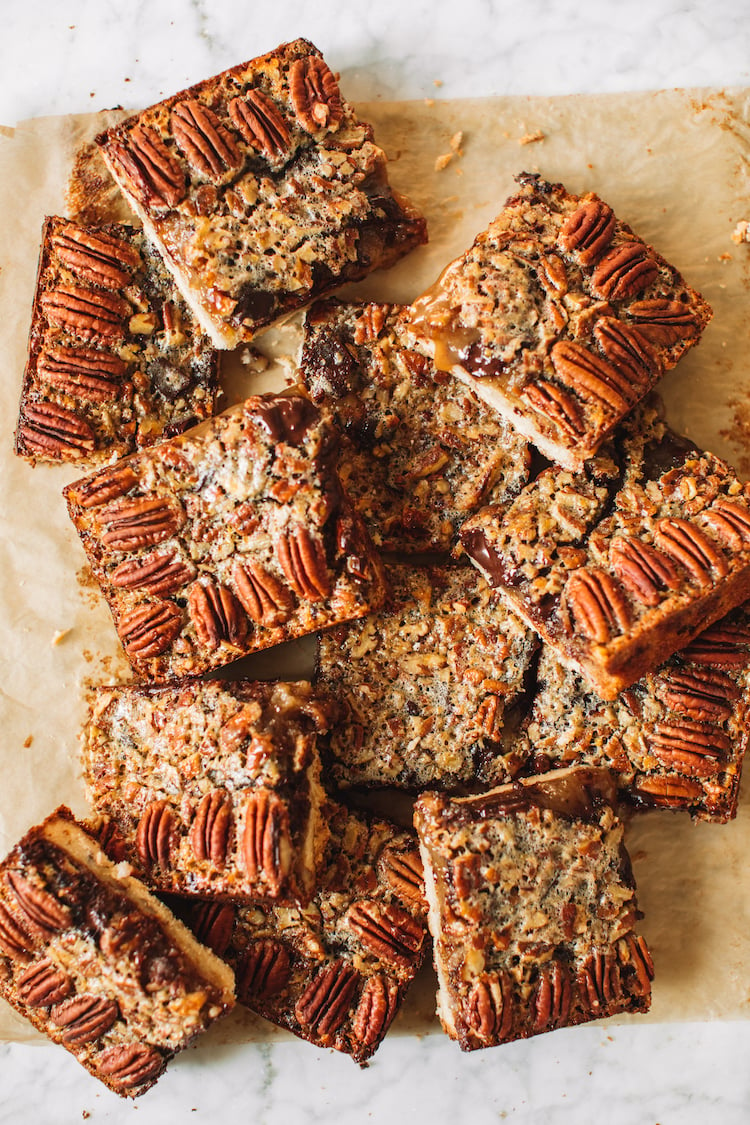 Chocolate Bourbon Pecan Pie Bars 
Why We Love It: These chocolate bourbon pecan bars are made extraordinarily decadent with a chocolate bourbon-infused filling on top of a rich shortbread crust. One bite and you'll be hooked.
Hero Ingredient: The bourbon is the secret ingredient.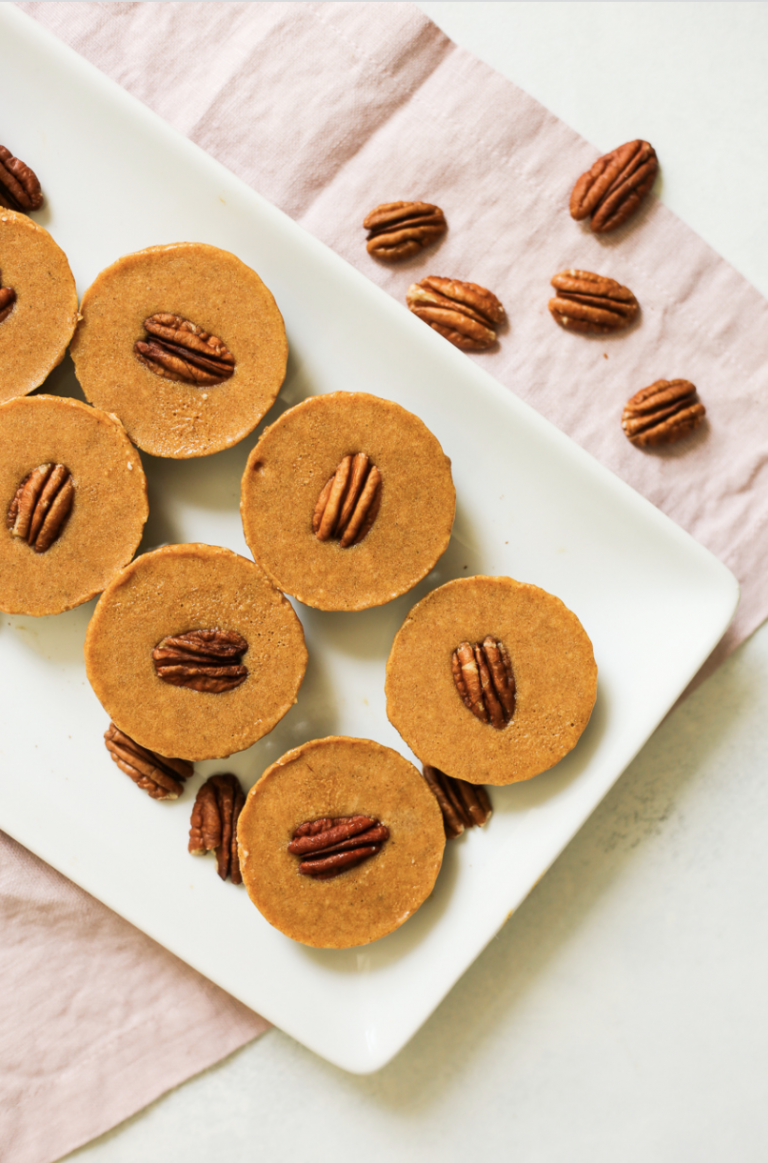 No Bake Paleo Pumpkin-Pecan Pie Bites from The Defined Dish
Why We Love It:  With a sweet date and pecan crust, these guilt-free pumpkin bites come together in a flash and there's no baking required. The recipe makes so many and is allergy-friendly, so everyone can enjoy them. They are the perfect little bite for when you're already full. 
Hero Ingredient: Dates make the crust sweet and sticky.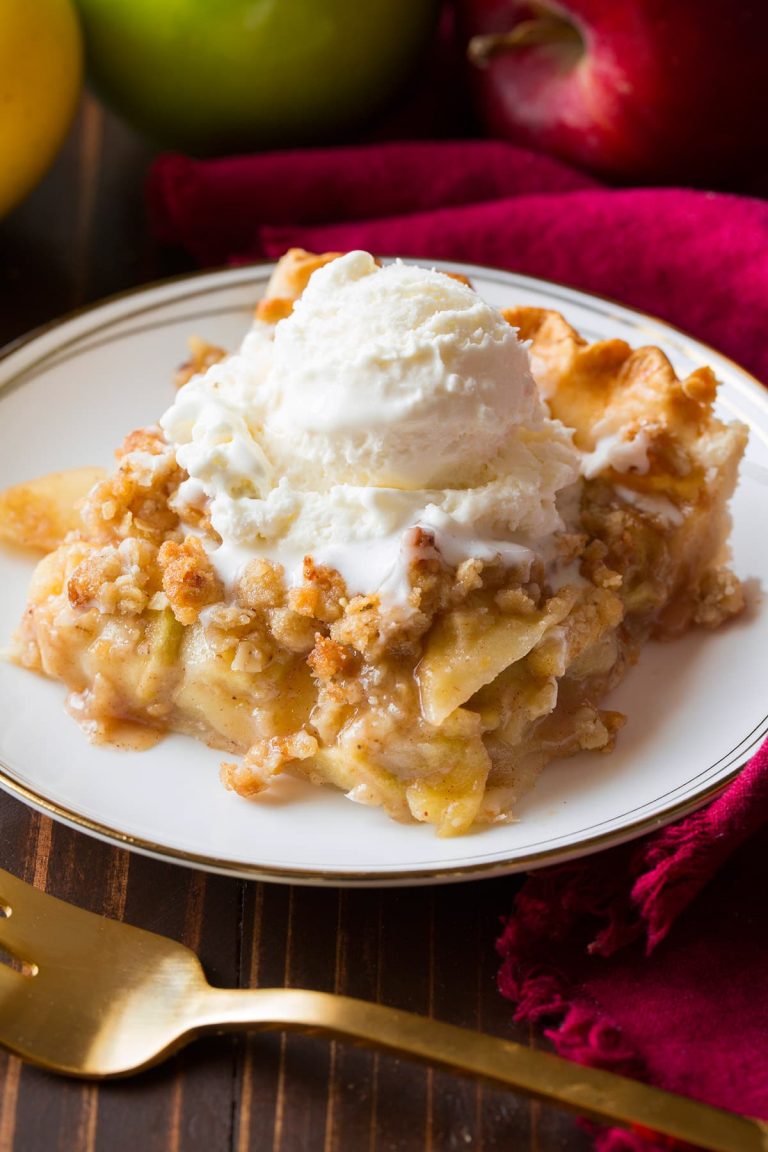 Crumb-Topped Apple Slab Pie from Cooking Classy
Why We Love It: Slab pies are always an excellent choice for feeding a crowd because the slices can be however big or small you want. This Apple Slab Pie has four delicious layers and will satisfy every sweet tooth.
Hero Ingredient: The crumb topping as a whole is a true hero.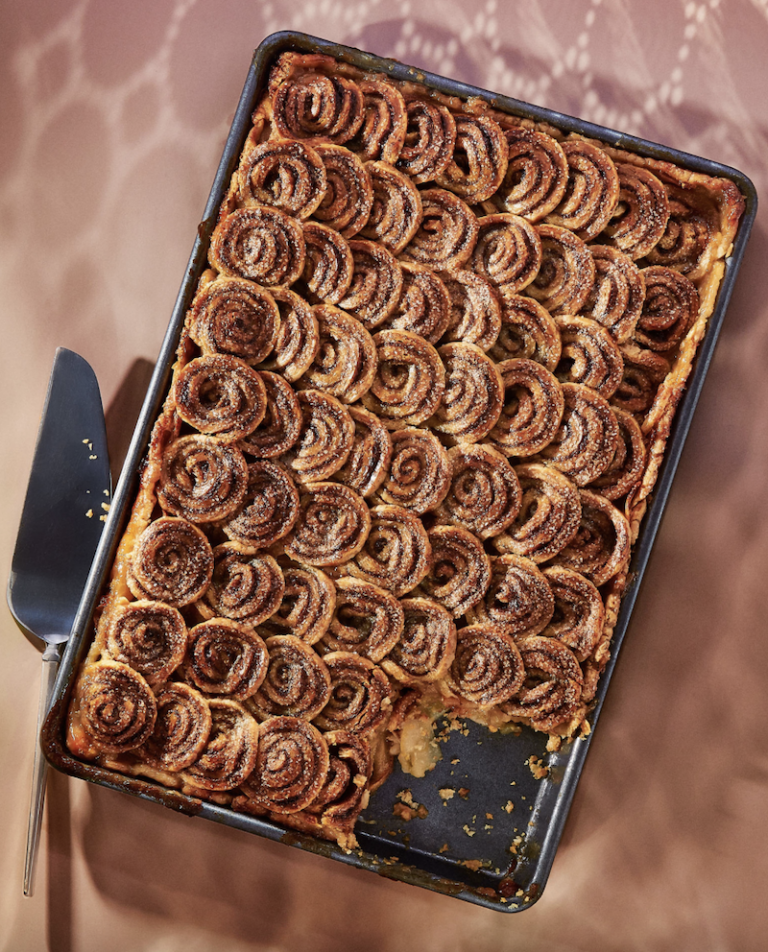 Cinnamon-Swirl Apple Slab Pie from Martha Stewart
Why We Love It: This recipe definitely requires a bit of work, but it will both feed and wow a crowd. Plus, who can turn down an apple pie with a cinnamon-butter twist?
Hero Ingredient: I'm a sucker for cinnamon.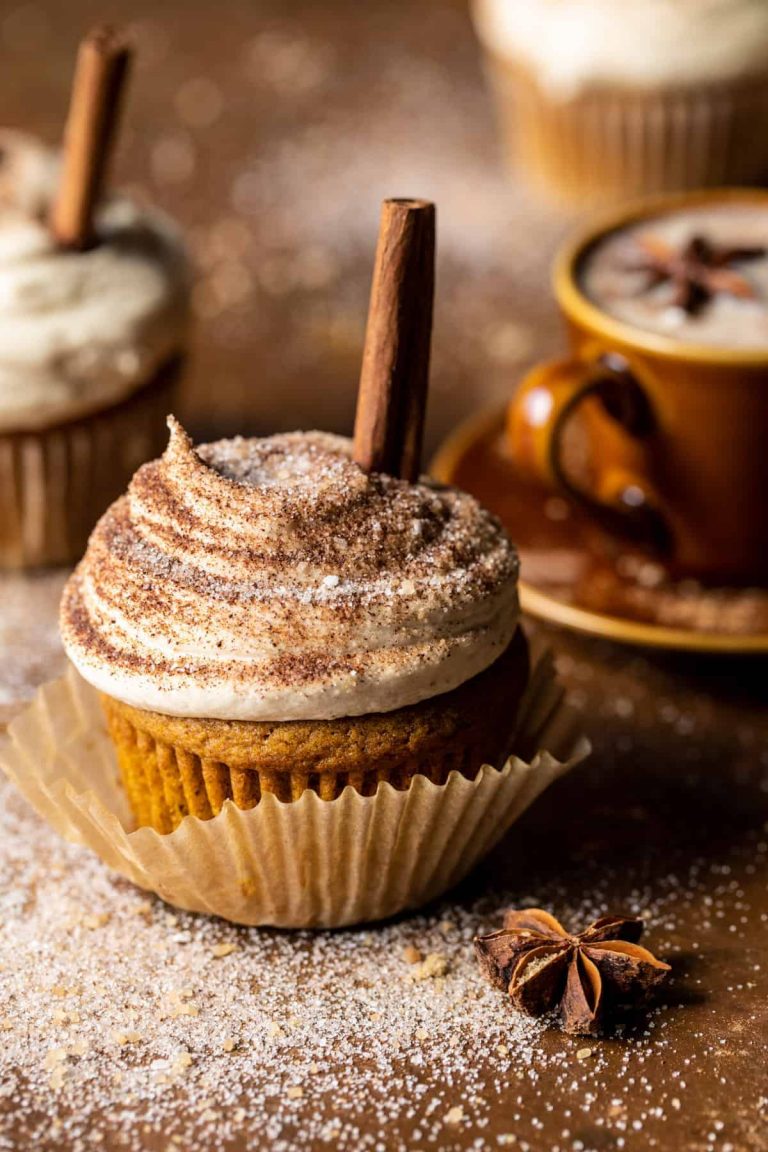 Vanilla Chai Pumpkin Latte Cupcakes With Cinnamon Brown Sugar Frosting from Half Baked Harvest
Why We Love It: Serving cupcakes on Thanksgiving isn't as crazy as it sounds, especially this recipe. Think about it: every guest is easily served, they require no special slicing or plating, and they still taste like fall. Seems like a good idea to me. 
Hero Ingredient: Starbucks has nothing on this Chai Spice.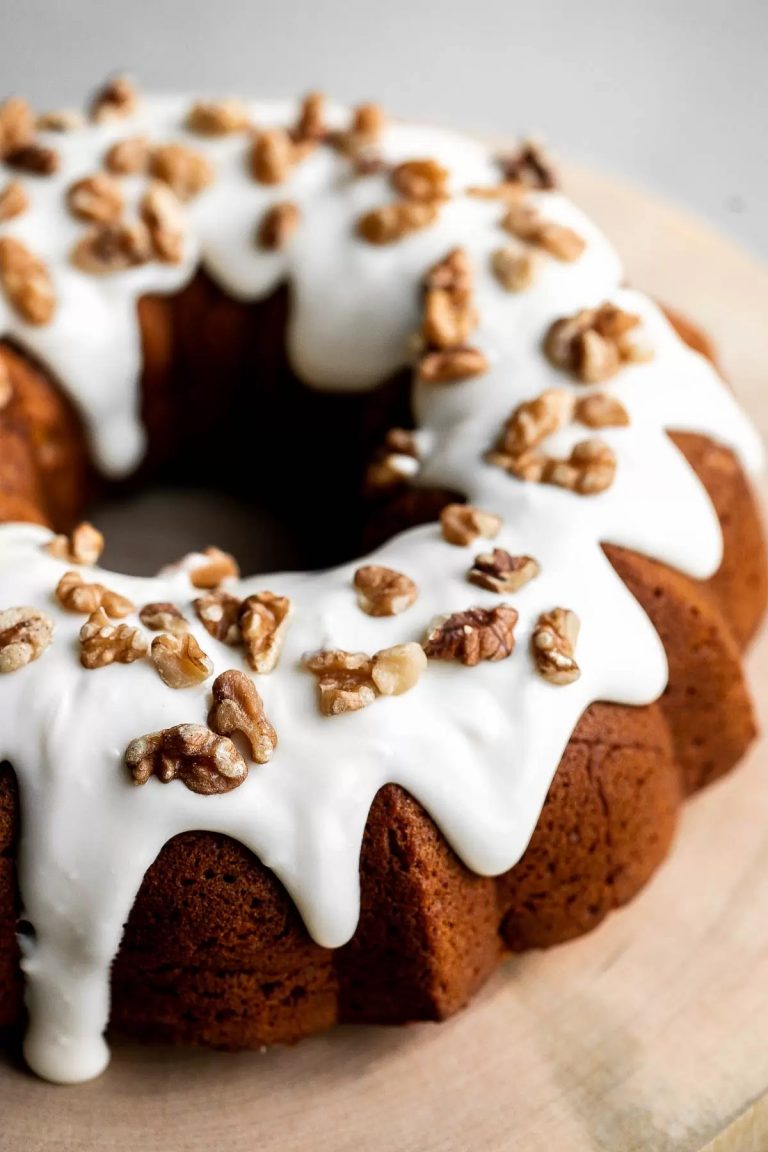 Pumpkin Bundt Cake from Ahead of Thyme
Why We Love It: This isn't your traditional Thanksgiving dessert, but I will never turn down a bundt cake. It is perfect for a crowd because it's easy to slice and serve, and pleases all of those pie-haters out there. 
Hero Ingredient: Homemade cream cheese frosting, please. 
Dairy-Free & Gluten-Free Pumpkin Pie
Why We Love It: This pie is made simple with minimal ingredients so you shouldn't have too much trouble pulling it off for Thanksgiving dessert. It's also a great option for a potluck because it satisfies every taste bud and dietary requirement, too. Plus, it is easily doubled to feed a crowd. 
Hero Ingredient: Cashews, because who knew a nut could turn into delicious whipped cream?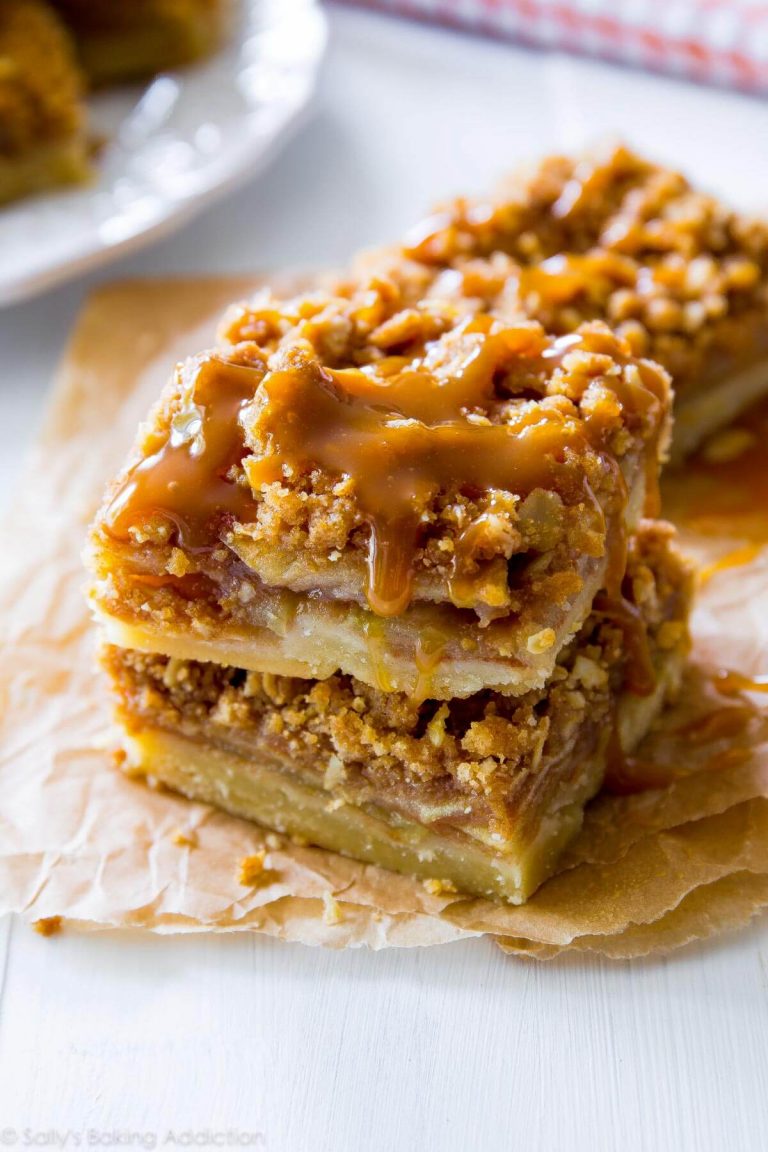 Salted Caramel Apple Pie Bars from Sally's Baking Addiction
Why We Love It: These bars have all the flavor of Apple Pie, but come together quicker and feed a crowd easier. One of the best parts is that guests can eat these with their hands, so they are great for passing around at a party. 
Hero Ingredient: The homemade salted caramel topping can't be beat.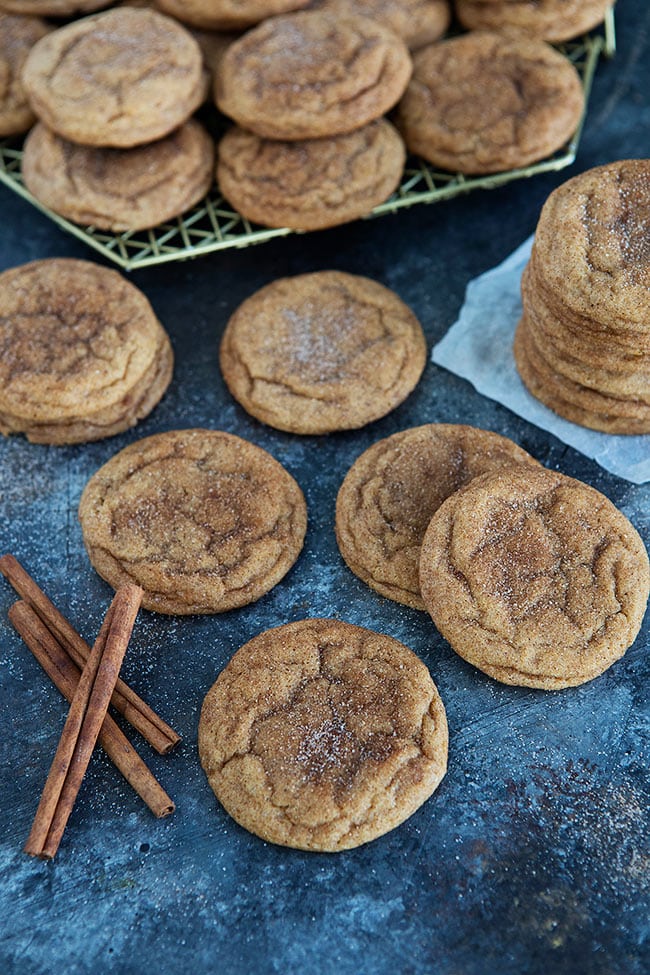 Pumpkin Snickerdoodles from Two Peas & Their Pod
Why We Love It: You might think I'm crazy for suggesting you serve cookies on Thanksgiving, but one bite of these Pumpkin Snickerdoodles and you will change your mind. They might just be the best Thanksgiving dessert for a crowd because they are bursting with fall flavors and serve 36. 
Hero Ingredient: Alllll the fall spices. The cinnamon-sugar topping gets an honorary mention, too.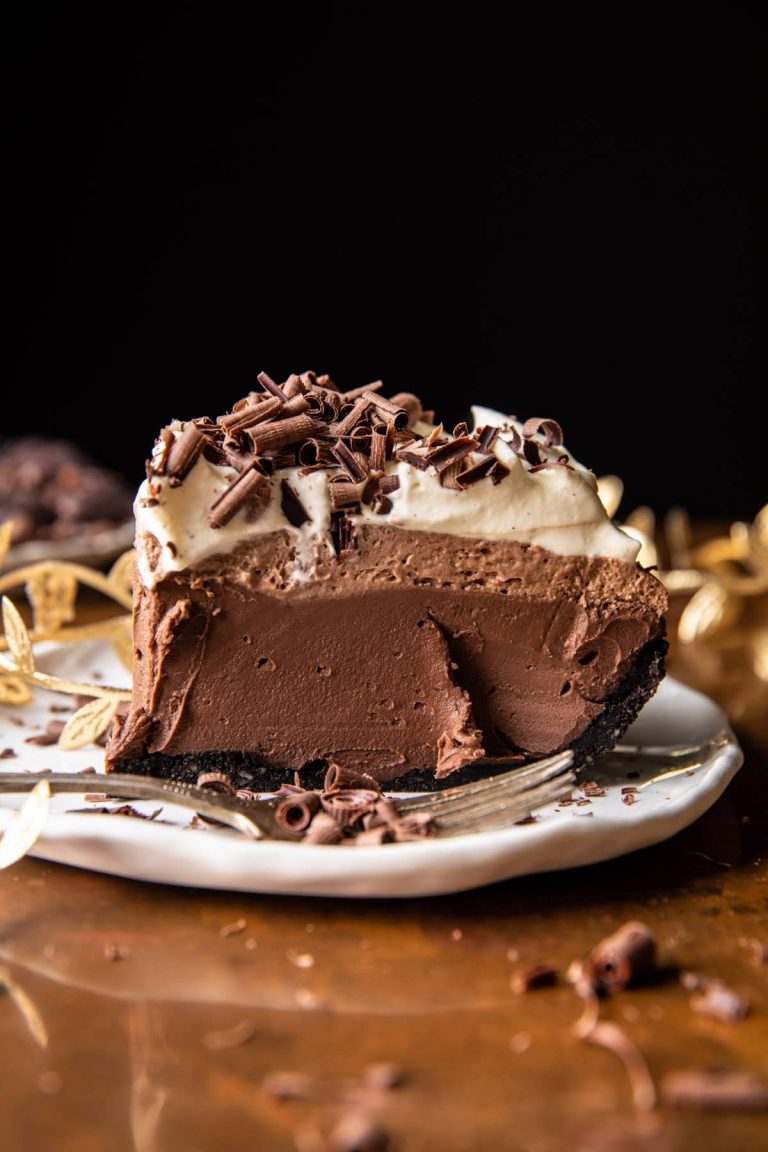 Double Chocolate Mocha Pudding Pie from Half Baked Harvest 
Why We Love It: Chocolate pie is my favorite Thanksgiving dessert. Throw in some espresso and I'm sold. This pie is perfect for serving a crowd because it requires no time in the oven. You can make it ahead of time, double it, and then forget about it. 
Hero Ingredient: The instant espresso is an instant favorite. 
What's your go-to best Thanksgiving dessert for a crowd? Drop the recipe in the comment section.